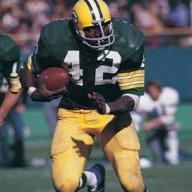 Joined

Jan 21, 2017
Messages

11,610
Reaction score

2,554
Inevitably with each draft class there are consensus opinions or takes that I just cannot understand and it makes me feel like I'm taking crazy pills.

That doesn't mean I'm always right about it, but I think all of us have players where we just can't get our minds around the way other people see them.

Here are mine:

1. How is Jordan Addison 4+ rounds better than Charlie Jones? I realize that Addison is significantly younger-- that makes sense. But otherwise, these guys have extremely similar profiles in terms of size, athleticism, and production (in 2022). I would totally stamp taking the young player earlier, but the chasm between these two players makes no sense to me.

2. Why do people think they can land Jonathan Mingo on day 3? He's big, he's truly an elite athlete, he has SEC production, he isn't over-aged, he likes to block, he can play all over the formation. I go on Twitter and I see random fans hyping him up like crazy and then say "He's my sleeper in the 5th round!" WHY DO YOU THINK THAT KIND OF PROSPECT GOES 5TH ROUND??

3. Why do people think Tank Dell is draftable? We did this already with Tutu Atwell.

4. Why do people think Michael Mayer is big? This is the one that really drives me nuts, because there's no debate here. It's all just factual. I keep hearing him comp'd to Jason Witten. Witten was Darnell Washington sized! I was listening to a podcast where they were talking about Mayer and LaPorta and how much bigger Mayer is. At the combine, Mayer was ONE INCH and THREE POUNDS bigger than LaPorta with SHORTER ARMS, SMALLER HANDS, and a SMALLER WINGSPAN. And yet everyone and their mom is like "Oh yeah, Mayer-- he's your prototypical Y tight end." Weight-- 33rd%, Hands-- 24th%, Arms-- 7th%, Wing-- 9th%.

5. Why do people think Calijah Kancey should go round 1? He's barely 6'0" 280# and his arms are 30.5" long, which is the 1st% for iDL. Even the most optimistic comps of tiny iDL (Donald, Oliver, Jarrett, Atkins) had much longer arms. Where do you play a DT that can't handle a block because his arms can't reach the offensive lineman?

6. Why is Devon Witherspoon considered a slam dunk top 10 prospect? Tape is good and people love his feistiness-- I get that. But he's nearly 6'0" and 180# and clearly not a high level athlete as he chose not to test other than the forty. You only do that if you know your numbers will hurt you. But if your game is based on physicality and you're 180 lbs, I am nervous! If you look at the list of 180# or lighter cornerbacks, there aren't many successful ones. The ones that exist were typically shorter (i.e. denser) and high end testers who won with athleticism not physicality. To me, Witherspoon and Cam Smith should be considered in exactly the same range.