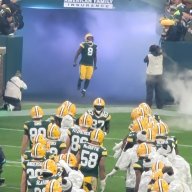 Opinions are like A-holes, we all have one.
Joined

Oct 30, 2012
Messages

30,574
Reaction score

6,812
Location
If the Jets trade isn't going down until after the draft, then bring the Niners back into play, or ANY team that wants in, since 2023 draft capital would then no longer be relevant. Now you'd be dealing w/ 2024 picks and/or players.
Honestly, I would bring the 49'ers and anyone else in on the discussion that is interested, right now. I think most of it is probably just rumors. I can't imagine Gute saying to the 9'ers or any other team, "Nahhh, don't bother making us an offer, we kind of promised the guy to the Jets."
If the Jets are trying to pay as little as possible for Rodgers and they get wind of another deal being on the table, I can see them upping their anti. The Packers aren't in a great negotiating spot if that doesn't happen. If it does happen, the Jets have all but promised their fans that Rodgers is their QB, so it would get interesting. After typing this and rereading it, hell, if I was Gute, I might be tempted to tell the Jets "You know, your offer just isn't what we are looking for, lets talk after the draft."
While I prefer getting THIS years picks, since you know its value, common sense tells you that a "2024 1st round pick" is more valuable than a 2023 42nd or 43rd pick. Obviously, you get the player a year later, but that unknown 2024 1st rounder could suddenly become a top 5 pick (see Seattle Seahawks).