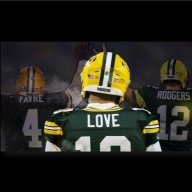 Joined

May 2, 2012
Messages

11,662
Reaction score

3,509
Got chatting Packers with a buddy the other day and his posed question to me was "Do you think our 53 man roster changes with whether Rodgers is back or not outside of the QB room?" It spurred a long discussion but got my mind swirling way too early at trying to place predictions down for the 53 man 2021 roster for Green Bay.

QBs (2/2) - Rodgers, Love *I think we keep three if Rodgers leaves, but only 2 if he does. Benkert/Dolegala both PS options. IF Rodgers leaves I think we go Love, Bortles, Benkert

RBs (4/6) - Jones, Dillon, Hill, Taylor

WRs (5/11) - Adams, MVS, Lazard, Funchess, Rodgers

TEs (4/15) - Lewis, Tonyan, Deguara, Daffney

OLs (9/24) - Bahk, Jenkins, Meyers, Patrick, Turner, Newman, Runyon, Braden, Nijman

DLs (5/29) - Clark, Lowry, Keke, Slaton, Lancaster

ILBs (4/33) - Barnes, Martin, Campbell, McDuffie

OLBs (5/38) - Z Smith, P Smith, Gary, Garvin, Kemp

CBs (6/44) - Jaire, Stokes, King, Sullivan, SJC, Samuels

Ss (5/49) - Amos, Savage, Scott, Uphoff, Redmond

Special (3/52) - Crosby, Scott, Fortunato

With Rodgers this left me with 52 when done and the numbers kept above per position are exactly what we did last season....I think these are the guys that might slip in possibly for the 53rd in this scenario:

-Ty Summers making us keep 5 ILBs
-Begelton or Winfree making it 6 WRs
-Hollman making it 7 CBs
-Bortles making it 3 QBs even with Rodgers

I love the Cole Van Lanen's story but it starts on PS I believe....for some reason I'm thinking Jackson and Hollman get pushed out by Samuels (I'm higher on him than most)...Cronk is also stashed on PS I believe...Stepniak might as well.

Lot could change and mold forward with Rodgers news, injuries and performances.