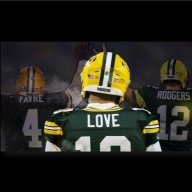 Joined

May 2, 2012
Messages

9,135
Reaction score

2,163
With the jet/sweep and multi-tooled offense MLF runs - having a variety of weapon types is pivotal to making it so incredibly dangerous. Let's discuss those shifty, speed, burner, jet sweep, quick slot type guys at WR positions that we in Green Bay realistically could see come our way. I am not targeting possession wideouts for this post, besides we have Adams/Lazard maybe Funchess for that role....
Im going to leave Moore from Purdue off this list...mostly because I think he is gonna rise up to a point where unless we spend a first on him it ain't happening UNLESS a trade back or a trade up to the first half of the 2nd occurs. He is arguably the one guy like him with no competition to be on that pedestal.

Few guys I like and rough estimate of round:

Kadarius Toney - WR - Florida
5'11" - 190lbs

This kid is flat out special with the ball in his hands. Doesn't have the best routes to get open, nor does he have the body to create jump ball victories...his touches need manufactured - but once there watch out. MLF system manufactures touches incredibly well. Shows ability to work as a WR as well, but I see him as a true viable jet/sweep type guy that can also be a WR threat (something Ervin is not....) Honestly, I think he is everything Tavon Austin signing had hoped for. His stock a few weeks back 3rd/4th...now I'd not be shocked to see him creep up into the 2nd round solidly.

Anthony Schwartz - WR - Auburn
6'0" - 179lbs

This kid would INSTANTLY push MVS for his role on the offensive structure. Running a 4.27 as his fastest recorded time, will easily be 4.3 maybe better. Dude is a straight burner...now whether he can show chops across the middle or in that jet sweep role is unknown, it is an experiment I'm willing to take on. I have him as around a 4th rounder...so think middle 3rd to middle 5th area is the bracket I'd expect him to go. Lot of areas need growth, but like MVS he has some un-teachables that are special.

Chatarius "TuTu" Atwell - WR - Louisville
5'9" - 165lbs

Tutu is a tough cookie to categorize. Led the ACC in receiving and touchdowns as a sophomore in 2019 and played QB in High School...sorry but to do both of those at his measurables means there is some special in this guy. The crazy thing is despite his size, VERY willing to put his nose into someone's pads...manufacture space from press coverage with motion or jet sweeps and he can easily be a playmaker in the league - IF nothing else when he is in and running deep like MVS you HAVE to pay attention to him and keep that lid on if able. His hands are not a detriment, despite his range being less - relative to his size the man can and does make catches outside his frame with ease. Where he goes is rough predictor...I've seen some go as high as 2nd, while most live in the 3rd round opinion - he showcases well at the combine he is a guy that could rise and have teams thinking Tyreke Hill type stuff...

Jaelon Darden - WR - North Texas
5'9" - 170 lbs

Like Tutu is that undersized thin playmaker, but I'd argue can push the gas pedal faster and decelerate insanely quick compared to Tutu....but his hands are not nearly as polished as Tutu. Dude put up insane numbers despite opposing teams knowing he was the primary, and yet continued to put forth yards and TDs at a gaudy rate. Twitch is insane...gadgety type guy that could find a role in the slot, but he'd be best suited to be used like Austin/Ervin in motion game. Does have the speed to pressure the lid of a defense as well. I personally have him graded around the 5th...so our late 4th picks could be easily a time to grab him IF organization is high on him.

Cade Johnson - WR - South Dakota State
5'9" - 180lbs

If God had given him a taller/bigger frame this dude would have been arguing for Day 2 draft status. Unfortunately Covid stole his programs 2020 season...but in two years this young man gathered over 130 receptions, 2500+ yards and like 25 TDs. The kid can ball, period. He just is small. Body control, hands, tracking skills and average route tree all illustrate someone that could shock folks. Low floor or high ceiling...both are very possible. He is one of my two favorite late round or maybe even UDFA sleepers. Senior bowl invitee and that could assist in making sure he hears his name called on draft day.

Whop Philyor - WR - Indiana
5'11" - 185lbs

This cat is just crazy...came in to IU and did RB, WR and even DB duties. He is a Day 3 guy for me that I'd struggle to not write his name down. Was even on the Biletnikoff watchlist at one time...kid has the ability to be special IMO. Runs track and extropulating times he should run some say as low as 4.35, with ball skills and the ability to break ankles trumps what many say is more of a 4.4 - 4.45 speed. If his foot twitch in juke moves with the ball can be polished over to routes - watch OUT. Presently we do not have a WR that fits what he would provide (or most on this list, hence the list) and you can bet MLF would love to have Whop to experiment with. His lack of size is the largest red flag, BUT his runningback background makes him less fearful of contact, or perhaps the better way of stating is he can "handle/absorb" contact more than most his size can usually.


Obviously as I watch more tape, senior bowl, combine and such could very well add, remove or amend some of this.
Last edited: