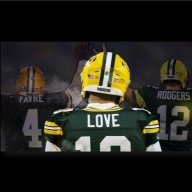 Joined

May 2, 2012
Messages

6,429
Reaction score

1,057
This concept was breached in another thread and I love discussions and projections like this. Every single year roster cuts hold a few surprises....and a few UDFAs slip in and claim a spot. So pick 3 UDFAs that you feel have the best shot or would be your locks if someone told you 3 were going to make it.
IF you need a refresher of UDFAs that we signed you can find them here:
https://www.packerforum.com/threads/udfa-signings.83523/
My three are as follows, and I chose to put them in the order I feel their chances and likelihood is highest to lowest AS THE CURRENT ROSTER IS SET (this is crucial to my predictions for one specific player):
Stanford Samuels (FSU) - Cornerback
By now we all know the claims of his time at combine not being accurate according to him...either way, watch his tape. Is he a BLAZER speed wise no, but he does play much faster than the time would indicate.
As a junior, Samuels played in 851 snaps, allowing 41 receptions on 81 targets for 560 yards, two touchdowns, two interceptions, and a 71.0 passer rating.
- Newsbreak article
I kinda agree with Deion Sanders when he said he thinks Safety is a real valid direction he could see Samuels excel at. Granted, we have that position pretty well secure when it comes to the starters, his versatility and ability to possibly serve as both a CB or a S just further draws my eye. His length is great and worthy of the NFL...he has proven capable against solid competition...it is his speed which is the only worry. Footwork to me can overcome some of this and I feel if not pressed into a role too soon, he is easily capable of pushing towards the ceiling many felt he had coming out of High School. Every draft pundit had him for sure being drafted due to all this...and honestly he is arguably my top UDFA when the draft dust settled. I give him the best odds for sure of garnering a roster spot and even furthering us from a King re-signing.
Delontae Scott (SMU) - Edge/OLB
Gonna be honest, I truly like the value at how we had all three OLB/EDGE guys arrive in Green Bay between Scott and Galeai both as UDFAs and also the 7th round flyer on Garvin.
Scott however, I'll pick as the guy that wins a serious battle to be that #4 guy on the roster as Gary was last year behind Fackrell. At 6-5 and 247lbs he has some serious speed around the edge and I think out of the three has the best chance at setting the edge, something Pettine is looking for and is one thing Gary excelled at as a rookie in his limited snaps.
Watch some of his tape fellas, I think you will even possibly ponder on how he went undrafted. Scott finished his career with more tackles for losses (36) than starts (28). In 2019, he had 18 tackles for losses and 10 sacks to end his career...those are pretty freaking solid numbers for a guy at his position. This is a position on our roster for 1 maybe two guys to truly earn their keep, yes playing time is LIMITED as we firmly have 3 guys well ahead of them, but still ripe for the taking.
**
My third one is very dependent on roster shake outs. IF we didn't have Jones/Williams/Dillon/Williams on the roster at running back presently I would 100% without hesitation write in Patrick Taylor out of Memphis. Had it not been for 2019 injury issue this cat may have been a late Day 2 pick to some, but definitely long gone by draft's end. Between he and Dillon being added I strongly advocate for us to see what we can get for Jamaal, especially should there be any camp or pre-season injuries (assuming we have both or one). I also truly love Sunderland out of Troy (cornerback)-the Oklahoma transfer has length, height and can RUN!! But with King still here, the promise of Sullivan and the addition of Samuels I am betting on, and obviously a few others on roster from 2019 Sunderland could be looking at Practice Squad.
So, as it sits now I'll go with:
Krys Barnes (UCLA) - Linebacker
Krys caught my eye as a Day 3 (albeit later Day 3) guy. Slightly undersized, it doesn't hamper his willingness nor his ability to put his nose on the ball without hesitation. That size does allow him to do well in shallow coverage responsibilities and I expect he will excel at special team play. I always struggled with ******* him down to a description, and guys like that I often find can hold a low end roster spot very well. He doesn't do anything amazingly well, BUT he arguably doesn't do anything poorly either. Look for Barnes to push Summers, Burks, Williams and even Kamaal for that complimentary role to Kirksey.
Who do you got? Where do you see the dust settling on the UDFA class, who are the top 3 in your mind to make the team, NOT top 3 - but top 3 to make the team.