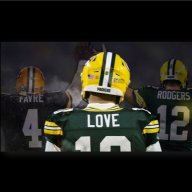 Joined

May 2, 2012
Messages

12,222
Reaction score

3,872
So I needed a distraction after that crushing loss - not taking it well. That said, here's what IMO is the most likely scenario should we trade Aaron Rodgers. First, I don't think the haul is going to be as massive as some believe, but it is still quite a bit. I believe we get at worst a return for Rodgers that the Lions did from the Rams - A 2022 first rounder (9th overall), their 2023 first rounder, their 2022 third rounder (75th overall) + either another mid to late round pick or potentially a player back. I truly could see this being very conservative to what we'd garner pick wise, but I also don't want to say three firsts and more as well because well that's a serious amount of draft equity.
With that scenario we add the 9th and the 75th pick to our 2022 mock.
First Round Pick #9 (Denver Trade) - David Ojabo EDGE - Michigan - 6'5' 250lbs
The counter part to Aidan Hutchinson will easily be the 4th or 5th EDGE off the board IMO and rightly so. A little less refined and lighter toolbox of assets compared to Aidan, but some would argue his strengths are Aidan's "weaknesses...albeit still not really weak" and that is speed and agility. Ojabo is quite green honestly, and if truly being honest this is shades of the Rashan Gary pick - hasn't showcased exactly what he will become for sure but his projections are through the roof. High school background being a track stud - teams that utilize a wide angle rush attacks will drool over what could grow from this prospect. NFL refinement and strength building to me are the only thing separating this young man from being an every down EDGE presence....we take a hit losing Zadarius and potentially Preston - but it is a quick reset if so, PERFECT scenario is though we find a way to keep Preston shedding AR's cap helps make this true and Ojabo serves amazing as our #3 and the goal of making GB's defense top shelf gets started wonderfully right here.
First Round #28 - Drake London WR - USC - 6'5' 210lbs
Seeing honestly quite a few WR on the board that I like (this is class which is beginning to feel very 2020-ish to me) Drake London and his long term long career projection on the outside is just too much to overlook. The epitome of what you want in a WR's ability to high point a ball, this USC basketball standout, knows how to go up and get the ball - it will be very rare that a DB reads and gets a better high point on him (nearly impossible). He is not slow, but speed is less his primary skill in getting open - that falls to his agility, quick feet and body control keep defenders from getting proper positioning. He is a deadly weapon on the outside and with a young QB like Love, will assist in no doubt a few jump ball tosses sent his way. While some will say taking a WR in the first the draft after AR leaves is disrespectful...we no longer have a HOF QB nor HOF WR - the need is more there than it has ever been over the last 20 years.
Second Round #59 - Damone Clark LB - LSU - 6'3' 245lbs
I really like the Beavers kid out of Cincinnati - BUT what Damone could be and his skillset (not too mention his expected RAS) project into what could be the best possible replacement for De'Vondre's 2021 campaign we can find (as I do expect he gets PAID elsewhere in this scenario chasing a better chance at a SB). Clark logged an astonishing 136 tackles (78 solo), 5.5 sacks. 2 forced fumbles, recovered one, and had an INT. Not too mention tossing in a few PDs. This young man's short range burst is arguably best in the LB class this year, the amount of space he can erase is very similar to what Bolton was doing last night to the Bills run game at times - BUT unlike Bolton he has the lateral mobility, hips and quick feet to not have to be a negative in passing situations. He also offers immense potential in applying pressure with multiple ways of not just blitzing but control pressuring a pocket. He may not be a De'Vondre out the gate, but paired with Krys Barnes who continues to grow and LB is less of a worry than some might think.
Third Round #75 (Denver Trade) - Jalen Wydermyer TE - Texas A&M - 6'5' 265lbs
Why don't we dabble back into another 6'5' red zone threat for Love...and not to mention taking another swing at a TE prospect out of A&M (zero chance we get another Jace right?). Honestly I see it as a 50/50 proposition that Jalen makes it to pick 75 BUT in this mock he did manage to make it here...had he not been to be honest Isaiah Likely could very easily been the pick or I really like the idea of pairing Clark with Travis Jones out of UConn on early downs as well - but ultimately I like the growth I expect out of Slaton and I lean offense side of the ball rather than defense atm. Wydermyer is a consistent three down playmaker out of the TE position we can keep inline or flex out even. Explosive burst and a long strider that is very challenging for LBs to attempt to cover with success and if inline with him his breaks and suddenness to change direction will still create space on double moves. There is a real good possibility we have no clue on Tonyan and not sign him, Lewis could finally decide to hang up his cleats if Rodgers leaves which leaves us with three ascending prospects in Deguara, Daffney and Davis possibly but if we are adding a rookie - I want it to be someone like Jalen that I truly believe can contribute out the gate (Ruckert was honestly the next best all around do everything but nothing great TE I like as well, Likely has higher ceiling is all).
Third Round #92 - Rasheed Walker OT - Penn State - 6'7' 312lbs
Enter at worst our backup RT/LT immediately OR best case our new RT should Yosh be resigned and the battle be between he and Walker. Rasheed has been a fixture on the Nittany Lion's blindside for three seasons and could in post-Bakh era be used there depending on how Jenkins future works itself out. Either way we have a tackle with years of experience at a high level in college, LONG frame, solid strength and footwork needed to succeed in the NFL. Just a solid Day 2 starter potentially along the OL or first up type pick to reload a strong OL group that still has unknown futures of Bakh and Jenkins - along with Turner/Kelly/Yosh/Patrick not all guaranteed back.
Fourth Round #128 - Jaylen Watson CB - Washington State - 6'3' 204lbs
(NFL scouts have him at 6'1' so keep an eye on this, but still tall enough frame)
I really wanted Coby Bryant, but he went a few picks before - however Jaylen Watson is my current next CB and given the most likely departure of Sullivan/King and also Rasul to Free Agency - it is best we assist the reload here for Jaire and Stokes (a dangerously strong duo) by getting reinforcements that appear more than versatile enough to slide inside or out depending on need. Over the past 15 games Watson has only allowed over 45 yards against him once - which was to his now teammate (picked in first round) Drake London - he simply doesn't give up big plays and keeps action in front of him very well. Despite keeping things in front which typically sees WR screens than tossed, he diagnoses this very well and his frame and strength almost always sheds an attempted block quickly disrupting the chance of a gain downfield. That strength is also illustrated from fighting through push off attempts by receivers hoping for separation - only the strongest or biggest of frame WRs/TEs will find success here against Watson. Played WR in high school so his ball skills are above average and can play the ball quite well too. He instantly IMO is our third best CB in the room.
Fourth Round #137 - Haskell Garrett iDL - Ohio State - 6'2' 300lbs
I've mocked him before and he is a guy I know some will be mixed on but I truly don't see him getting past the fourth, so if he is here and we haven't beefed up our iDL yet I'm a fan of grabbing. I said this in an earlier mock:
Welcome to the pick that will cause the most diverse opinions amongst fans for sure. Haskell, has all the physical tools it would seem. Haskell has the character of a guy you want, stepping in to stop a domestic situation ultimately being shot in the face (recovered fine). BUT, ask any Ohio State fan that watches games every weekend and most will tell you it feels like Garrett has left SO MUCH more there. So it depends what you see: some will see a guy struggling to figure out precisely what he is (is he a true 3T or his a gap control type)....others will see that he has answered both calls at his time at Ohio State, just not to perfection for sure. Personally, I love him being in a room with Clark and Keke and Slaton. Admit, some are going to argue this is early, others late for this prospect. He truly is that type it seems.
Fifth Round #169 - Justyn Ross WR - Clemson - 6'4' 205lbs
You want a guy who has never face adversity in the eye, do not read up on the journey Justyn Ross has been through. However, if you want a guy that nearly saw his career end, regain his health and then lead his team in yards this past year with inconsistent QB play than read up on Justyn Ross. Ross had 1,000 yards his freshman campaign for Clemson and nine TDs, he added to that with 865 yards his sophomore year and 8 TDs. Losing his entire 2020 season due to a hit in practice (story
HERE
) he came back in 2021 and despite offensive struggles mustered the teams' leading receiver role in yards, receptions and TDs - albeit at 514, 46, 3. A big athletic target that is skilled both inside or in the slot as well. The Clemson experiment in Green Bay at the WR position adds another, and something tells me at minimum one of them, if not both, will be making plays in 2022 for us.
Seventh Round #224 - Gabe Brkic K - Oklahoma
Yup, I did something I've never done, mocked a kicker. Look special teams play has been an issue and while I don't place the blame on Crosby's shoulders there is a good chance if the eras are changing in Green Bay he is riding into the sunset as well. Enter Brkic, the name alone seems fitting in the odd Wisconsin tendencies, but this dude has a leg! Hitting 100% of his attempts in 2019, he had a slight down year in 2020 hitting just shy of 80% HOWEVER dig deeper and in 2020 you will note 6 of his 19 attempts were 50+ yarders and he hit 4 of those. This season, he has hit from 56 not once but twice. Big leg, in big moments = YES from me and the desire to not see him get to pick where he goes in UDFA.
Seventh Round 7 #245 - Interior OL - Ben Brown - Ole Miss 6'5' 315lbs
Brown started at RG for the Rebels...however over the time there has experience starting at both tackle spots and even center. A versatile cog like him against some excellent competition in college is worthy of watching your boards for. He is a Day 3 to UDFA type guy, and with our OL depth I want to force him to come here not get to pick another location where he may have a better shot at starting quicker. With the likelihood of FA losses across the OL and injuries still looming, the added depth is a solid thing to do at this point in the game.
OVERALL - we leave this draft adding three offensive weapons (2x WR, TE), a beefed up defense with arguably a starting level EDGE and LB - while alos adding solid DL and CB depth as well. The OL gets a bolster with a guy that could step in at RT and a highly proven versatile iOL that could compete at guard in 2022 as well. Oh and yes, our kicker of the future.
First Round Pick #9 (Denver Trade) - David Ojabo EDGE - Michigan
First Round #28 - Drake London WR - USC
Second Round #59 - Damone Clark LB - LSU
Third Round #75 (Denver Trade) - Jalen Wydermyer TE - Texas A&M
Third Round #92 - Rasheed Walker OT - Penn State
Fourth Round #128 - Jaylen Watson CB - Washington State
Fourth Round #137 - Haskell Garrett iDL - Ohio State
Fifth Round #169 - Justyn Ross WR - Clemson
Seventh Round #224 - Gabe Brkic K
Seventh Round 7 #245 - Interior OL - Ben Brown - Ole Miss
Last edited: