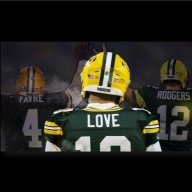 Joined

May 2, 2012
Messages

10,071
Reaction score

2,612
Alright we are narrowing down days till my favorite holiday lol aka the draft.
I truly believe we will be trading as Gute does anything but sitting still...however let's just say we stand pat and roll given the unknowns of trading.
Pick #22 George Pickens WR Georgia...he's been discussed a ton but he fits every single parameter GB places on WRs and 1st Rounders. This kid at 18 tore up the SEC...motivated and yes emotions run hot with him but in the DK Metcalf way not the diva way. I'm officially there on this guy, I want him to trade his college G helmet for the pro one.
Pick #28 Daxton Hill S Michigan...want him to play single high, check...slot, check...split zone, check...follow an athletic TE anywhere, check...help in the run, check. Want a YOUNG prospect with high floor and higher ceiling to most likely replace Savage, check. Yup, I got images made for a few: LOL
You must be logged in to see this image or video!
Pick #53 - DeMarvin Leal DL Texas A&M...honestly it is a 50/50 proposition if he lasts till now, and he and Drake Jackson are in the same boat for me as I want both but worry neither will make it. A run on WRs and 4 QBs mixed in help and he makes it. This cat is YOUNG too and has been very productive his entire time in the SEC - to the tune of over 35 tackles a year (58 this last year), 8.5 sacks as a DL in 2021 a FF and 2 PDs even. His RAS is awesome, doesn't turn 22 till July and his ceiling is high. Hello Keke replacement for now, and Lowry replacement for 2023 most likely.
Pick #58 - Drake Jackson EDGE USC...some might think I'm crazy but this pick could be our last one of the entire draft and I would be ecstatic. Getting Jackson and Leal in the 2nd to some is "eh whatever" but again we have a high RAS, young (was 20 until the 12th of april!) and ascending edge pass rusher out of USC. Yes, please. Another image for you all:
You must be logged in to see this image or video!
Pick #92 - Khalil Shakir WR out of Boise State....a guy many of us have mentioned but a guy I've never described fully. His 2021 season was special amassing 1,117 yards / 77 recs / 7 TDs and over his final three seasons amassed over 2,700 yards 192 receptions and over 6 TDs a year and 19 over the three. What sticks out to me more than his burst (which is special) is his hands. Pull up highlight reels and time and time again he is seen stretching out one hand to wrangle and haul in big plays...while contorting his body in mid air often. He is just shy of 6 foot, but took plenty of snaps in slot, outside, motioning in or out as well....even some designed runs happened. His 4.43 forty is elite, but his 10 yard split of 1.49 is INCREDIBLE and shows why he gets open sometimes. While many would be anxious and mad we've waited, I'm also banking in the coming days a FA veteran is added (Watkins is unconfirmed but doesn't matter to me) and Khalil is a good addition to Pickens coming into the room.
You must be logged in to see this image or video!
Pick #132 - Braxton Jones OT Southern Utah...a Tackle prospect that is very athletic and fully capable I expect to slide in if we want him to...with 35+ inch arms he could easily be a tackle of the future or a blessed guard making things happen. With depth minimum in the OL room needed this pick makes too much sense and more is probably needed...speaking of...
Pick # 140 - Zach Tom OT Wake Forest...another oober athletic Tackle with a versatile multi-position history, Tom frame is even more conducive to a slide in if needed but is fully possible to be a tackle as well. After these two picks the OL depth factor is solved IMO and arguably could even have a starter between the two...a veteran addition is perhaps all that Gute may want or need to do at some point.
Pick #171 - Isaac Taylor-Stuart CB USC...another Trojan joins the ranks, an athletic younger prospect that never caught fire but could easily be a steal in the 5th Stuart is projected as some as a Safety others to stay at CB. I think he should have stayed one more year and potentially fought to be a top 100 prospect...but GB offers the PERFECT set up to be the #4 most likely and can learn and deliver with his 4.42 speed on special teams till he gets more playing time on defensive snaps.
Pick #228 - Malcolm Rodriguez LB Oklahoma State...
@Dantés
and I have hinted at him being a Day 3 target late, athletic but no frills LB that has consistently flown around for the Cowboys will at minimum IMO be a ST boost and could push for playing time later on here in GB.
Pick #249 - Kingsley Jonathan DL/EDGE Syracuse...another new guy that I am excited to maybe introduce you to. Jonathan is a LIGHT guy who did work for the Cuse with his hands in the ground off the edge. A 9.04 RAS with a 1.61 10 yard split (4.76 forty) that when you watch his tape his explosive first couple steps is enough to make lineman not quick enough to react, however for a tight 6'2" 259 frame this dude is strong and if a OL does manage to get hands on him, Jonathan isn't out of the play and can often times use his strength to still control or steer lineman if needed (not consistently but its there). A very special and intriguing guy that I'd be curious to see if Barry and GB would use reduced down and in some in pass plays or does he pick his hands up and use his quickness even more so.
Pick #258 - Josh Babicz TE North Dakota State....a guy while I have watched Christian Watson film that caught my eye was big #81 Josh Babicz....and I like what I saw. A big framed 6'6" 255lbs guy that can move people along the line did however illustrate an incredible knack in his three years at NDSU for finding the endzone getting 5,2 and 4 TDS on just 12, 16 and 12 receptions. I mean the dude was scoring on nearly 25% of his completions. I truly think GB is going to give Tonyan EVERY opportunity to prove he is worth being signed as GB's future TE in the post Big Dog/2022 season era...but adding a high ceiling 7th rounder like Babicz that can easily be stashed on PS is a no brainer and by grabbing him it makes us not have to worry about getting him in as a UDFA.
There we go...I may be done with mocks...at most I am only allowing myself once more before the draft (day or two prior)
With deficiency in WR room being the biggest "need" and true depth at EDGE, DL (future especially) and OL - this draft accomplish this within the first 6 picks...and answers the future Safety issue since we are facing a 2023 with neither starter signed.