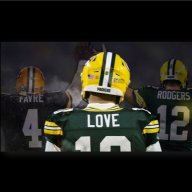 Joined

May 2, 2012
Messages

12,222
Reaction score

3,872
I'm pushing aside my own bias and trying to predict what Gute & Co. will do - now the part that sucks is we still have a few days and something could break news wise or trade wise...BUT the hardest part is trying to predict what trade or trades Gute does. Perhaps more than anyone else Gute has proven very willing to move up at some point in any draft at any point....so....here's my predictive mock for 2022 with now less than 48 hours....

Pick #22 - George Karlaftis EDGE/DE
Karlaftis attacking an offense while the snow falls in freezing temps at Lambeau is something I think Gute simply cannot pass. Yes we need some WR help, everyone knows this - but as Gute stresses time and time again the draft is for the future, it is how you build a franchise. I think a special piece like Karlaftis is too good for Gute to overlook and for the first time since Clark GB adds a trench warfare type guy that I think you can build a future around - Gary is now that type of piece but I'll be honest I wasn't as confident about him then as I am Karlaftis. He fits every mold of a GB prospect for the first - high profile position, high RAS, literally just became old enough to drink April 3rd and has been highly productive against high level competition. With every box checked, George Karlaftis makes sense for GB and Gute.

Pick #28 - George Pickens WR
The "flags" popping up of late are all BS smokescreens. This dude has an edge for sure, and is why you see him blocking a breath after the whistle and fighting for that extra yard at times. I just cannot get over what he did as an 18 year old kid in the SEC...he fits everything GB liked about Adams, NOT SAYING HE IS ADAMS, just that he does a lot of what Adams did in numerous ways. Rodgers gets his first rounder after Gute risked not taking another George at #22

Pick #53 - Jalen Pitre S
The temptation was there to trade up here...but in the end I think a LOT of teams are going to be looking for those movements into the top fifty but after the first...and Gute beckons back to the TT patience he witnessed when asking prices were too strong. Pitre may not be the best Safety on the board to fill a massive depth need in 2022, push need for Savage and most likely a future with no starting safety experience signed past 2022. Pitre is fast enough (4.46) with a quick burst (1.53 10 ydspl) along with solid enough vertical and broad...but it is his tape that confirms the type of player your picking up. Baylor lined him up in FS, SS, ILB, OLB even once or twice standing in the box down low at times....he is a surehanded tackler (135 total last two years/ 6 sacks/2 FF/4INTs and 9 PDs) and if he doesn't push Savage out of a starting job, this pick for 2022 instantly makes Bisaccia grin ear to ear when he hears the name Gute is calling in. A Packer type through and through gets added in the second round with our third pick.

Pick #59 - Leo Chenal ILB
Honestly, a luxury pick and a quiet way of potentially upgrading the Defense in a massive way. Barnes has been SOLID, and at times in 2020 was even our best LB in some games on the field (OLBs included)...however its his heart and brains that make plays not his physical skills necessarily...Chenal is all that AND extremely gifted. IF he is everything many of us think, he could be like having two Campbells in there and when teams go heavy pass having him in there instead of Barnes would be special. Again like every other pick, he checks all the boxes for GB from a measurable stance...it is a little early for ILB historically but this is an early ILB swing well worth it.

Pick #92 - Jelani Woods TE
I tried trading up, and I assume Gute may as well as I think between picks #80 and #120 is where Gute will make a trade up in. BUT we stay again fighting the trend of Gute historically (albeit a brief one) and pick up a guy that mirrors a LOT of what Darren Waller was out of college in Jelani Woods. Just like Waller, and even more so, underutilized in college some would say and a late bloomer others would stress. Whatever it is the intangibles are there for Woods, now we just gotta see if it translates...pick five and GB finally swings back to get Rodgers offensive help of a special variety.

Pick #116 **TRADE ALERT** Tyquan Thornton
Knowing the future pick situation of Denver Gute offers up a deal sending our 132nd (4th) this year + our 5th next year....most likely knowing either Savage or Amos or another person will probably offer back a comp pick of some kind when losing them that 5th next year seems worth the move. I'd argue perhaps that could even be a 4th instead of a 5th....I just have a hunch Tyquan's speed is something we covet and unlike MVS he doesn't suffer from concentration lapses as much and can be seen high pointing balls on jump balls more fluidly than MVS did out of college. A true vertical route tree BEAST he is FAST at 4.28 forty GEEEEESH....his ten yard split is other worldly at 1.41. Refine some more branches off that route tree and remove his predictability over the coming years he could become something special, but even if not he offers what MVS did, a deep threat unlike many in the league.

#140 Joshua Ezeudu iOL
Ezeudu from UNC is a guy that I absolutely love for GB at this spot. He has played outside but started all but once at LG this past season, and I instantly see him as our 3rd best guard if not earning a starting spot on either side early in his rookie year if not out the gate. He excels in a zone run blocking system and yet exhibits the technique and sand to anchor against the pass or mirror speed rushers on the outside even if tasked at Tackle. Arm length at 34, he is an intriguing piece and one I'd be curious to see where GB deploys him and what he can do with the chances given.

#171 Tariq Castro-Fields CB
I still think somewhere before late Day 3 we find ourselves drafting another CB...TCF is a little different than what we've got as he adds some solid framed nature type to it and yet has quite ample speed at 4.38 which is impressive for a nearly 200lb guy. A zone fit type CB, the attractiveness to him for me and I think GB is the ST contributor and locker room type guy he seems to be to build and hold a depth spot for years in the NFL and be there if needed....and yet his physical tools are there and perhaps a little NFL refinement could showcase why he succeeded and held onto a prominent role for the Nittany Lions his whole time there. Bisaccia again is loving this type of a pick and no doubt this high RAS athlete will elevate our ST units potentially his rookie campaign.

#228 Austin Deculus OT
I've spoken to him a lot, this HIGH RAS tackle from LSU holds the record for most starts at that University and that is saying something. At this point in the draft assurance of what your getting in such a high floor prospect for along the trenches with some unknowns (can Yosh repeat, will Jenkins heal quicker than Bakh...is Bakh back and good?) his presence could be a serious blessing.

#249 Kurt Hinish iDL
STRENGTH and WILL - two of my favorite traits in Hinish and I loved watching him for my Irish for years and truly think folks overlooked how solid of a piece he has been there in South Bend. An 8.83 RAS guy he boasts a 31 rep measurable and excellent shuttle, cone and speeds (5.07 forty and 1.72 ten yard)...he is a shorter stockier guy, but he understands leverage and can be excrutiatingly difficult for OL to move when he sinks his hips and engages. You can do far worse than Hinish added for depth along the defensive front.

#258 Kyron Johnson ILB
I'd love to not have to resign Summers next year and McDuffie could or couldn't be a guy that sticks...Johnson is everything you love about late Day 3 additions....could he challenge for play based on his measurables (8.41 RAS)? Yes. Could he challenge for playing time based on his college production? Yes (150+ tackles last three years/10.5 sacks over 3 yrs/5 FFs and a few PDs). What I love is his knack for big plays and delivering in big games (the OT game against Texas he balled out...against OU he at times made them push the #3 ranked team). All of that, but still worst case you have what looks like an incredibly gifted athlete, not afraid to hit people that Bisaccia again will love having on a roster where ST improvement is no doubt on everyone's mind.

There you have it...Tyni's last and final mock - predictive style. I wanted to give into the mindset Gute may swing MASSIVELY or multiple times...but I think everyone is expecting this, and for once I think he is more TT for the start of the draft and lets it come to him. In the end the draft delivers some excellent potential for the future with possible gems in a guy like Woods, but also what many would assume will be guys delivering and helping us chase a SB out the gate in Pickens and Karlaftis.

No matter how it goes or how wrong I'll be - GO PACK GO!!!
Last edited: