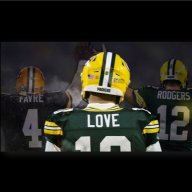 Joined

May 2, 2012
Messages

12,222
Reaction score

3,872
Yup, probably gonna break my only two mocks a month shared - but don't care LOL. Gives me an excuse or chance to share thoughts on a few more prospects most likely and also life has sucked lately with illness so pulled mind off it.

Another scenario where we do what I would do and trade Rodgers with Denver. Many will argue with me but I am fine not taking a player back and take their first round (9th pick), their second second rounder and their second third rounder for this year plus their 2023 first rounder.

I also then waited and when no QB gone yet with the 9th pick I choose Washington over New Orleans trade offer despite being slightly less in return liked only sliding back two spots - Traded the 9th, and a seventh rounder for Washington's 11th pick, 111th (fourth round) and a 6th.

With this as I have said I focus on defense hard early and often later. Face it, rookie contributions IMO happen faster with high level picks on defense than offense often times...and we are gonna have to have a STOUT defense post Rodgers era.

Round 1 - Pick 11 - Jordan Davis iDL GEORGIA 6'6' 340lbs
This cat is the freaking tops DL in the draft IMO no doubt in my mind. I've shared a ton on him elsewhere, but haven't mocked him to us due to I worry he may not make it out of the top 10. Pairing him with Clark isn't fair, but I don't give a crap LET'S GO!

Round 1 - Pick 28 - Nakobe Dean LB GEORGIA 6'0' 225lbs
Never double dip from same school back to back? Screw it, he is one of only two iLBs I have 1st round grade on and is an instant starter in the middle at the next level IMO. Again I've shared about him elsewhere and will save space here not repeating. Two picks down and two STUD DEFENDERS added.

Round 2 - Pick 59 - Jalen Tolbert WR SOUTH ALABAMA 6'3' 190lbs
This is the cost of waiting till now..London is gone, Watson went just before and on my board it is Tolbert or Pickens....I lean to Tolbert for the high upside slightly lower starting floor...but Pickens injury past worries me as well. Tolbert can fly, high points the ball incredibly well, above average route abilities and is a very good comp to Will Fuller out of college - with the same negative that can creep in, one ball out of hundreds will appear almost too easy of a catch and lapse of concentration occurs ending in a drop. I'm not worried though honestly.

Round 2 - Pick 64 - Boye Mafe EDGE/OLB MINNESOTA 6'4' 265lbs
This is gonna be deemed a reach to some, others a steal. Mafe was arguably one of the most consistent and overwhelming presences at the Senior Bowl all week and carried it into the game. This EDGE/OLB animal is physically ready for the next level, mental refinement and technique will come with time. His ceiling is Pro Bowl level performance for sure, but is gonna be argued by some to have a lot of that potential raw if you will. Barry figures a way to harness it watch out!

Round 3 - Pick 92 - Jeremy Ruckert TE OHIO STATE 6'5' 250lbs
I've spoken to Ruckert before. He and Ferguson out of WI are the two most all around TEs ready in the draft out the gate. While you rarely want to depend on a rookie TE as your TE1 out the gate, I wouldn't fear it with Ruckert personally. Much more suited for a hand in the ground in line blocker like Lewis is than Deguara or any other TE we have on roster presently.

Round 3 - Pick 96 - Kyle Philips WR UCLA 5'10' 191lbs
Kyle Philips simply and plainly produces. He was to many the most consistent and solid player in the entire Shrine Bowl and you search shrine bowl notes you're likely to see "uncoverable" when you hear Philips name. Lined up for the Bruins primarily in the slot however he showed immense ability at the shrine bowl lining up outside as well. Bonus with Philips is immense special teams experience and value as well...in 2021 he only had 9 punt returns but get this dude produced 203 yards and a TD in them. That eclipsed his 2019 year where he returned just 8 times and put up 180yards and a TD. He and Amari have years to grow and make each other better both in the slot and in the return game.

Round 4 - Pick 111 - Coby Bryant CB Cincinnati 6'2' 185lbs
Yes, his counterpart at Cinci (Gardner) is regarded by most (myself included) as the best CB in the draft...don't sleep on how good Coby could be as well. Putting up 7 INTs, 3 FFs, and 18 PDs over just the last two seasons at Cinci Bryant will find away into nearly any teams CB room and see snaps out the gate whether that be as teams #2 outside man, sub packages or even sliding inside...although his home and game is more outside. He "could" allow Jaire to move around if his game translates well to the NFL like I think it might. He's a high floor with argued high ceiling.

Round 4 - Pick 130 - Jaylen Watson CB WASHINGTON STATE 6'3' 204lbs
Watson is argued by draft pundits as to where he will play, will it be safety or will it be CB....he is that diverse...the risk is though while he may do both things well, will he ever do either great? Watson looked inconsistent in the week at the Senior Bowl, but no red flag type items to speak of. He is listed as the 9th best S option in the draft by Kyle Crabbs @ Draft Network for note, which arguably has merit.

Round 4 - Pick 139 - Max Mitchell OT LOUISIANA 6'6' 300lbs
Max entered Senior week as a highly regarded OT prospect that needed to prove if it was really there against high level competition. His first two days were solid and he was holding his own, but Day 3 arguably is the day Mitchell made his presence felt - winning constantly in 1-on-1s and was extremely fluid and strong in his hand offs and pick ups in 2-on-2s when stunts occurred. Overall Mitchell has the potential to be a project LT of the future or possibly a RT immediately in his first year - he is that skilled.

Round 5 - Pick 170 - Thomas Booker iDL STANFORD 6'3' 310lbs
Booker has a lot that excites me and the 5th round is about as far as I think he deserves to get - with good reason too. He was a disrupting presence in his time at Stanford and showcased it against pass and rush alike. His anchoring strength is not what allows him to win, but his quickness - lightning first step and rip at times left OL shocked....he'll need that point of contact technique and strength built/refined if he's going to be more than a situational depth guy, but that doesn't matter right now...he's good enough to offer a handful of snaps a game in situations his rookie year for sure but he is more a project for 2023 and 2024.

Round 6 - Pick 187 - Cade Hall EDGE San Jose State 6'3' 270lbs
Cade's a project, at San Jose State he was listed as DL and spent nearly all day in the trenches fighting....for the next level he will either have to add weight to stay there or most likely could shed some and play upright on the edge more...either way Cade's ceiling is very high as his motor and quickness mixed with superior agility and an almost precise technique to win are rare traits that we see time and time again translate on the outside of a defense at the next level. I tend to think he could be a hybrid type stand up or down DE (Lowry type) that Barry for sure could groom into something.

Round 7 - Pick 225 - Ben Brown iOL OLE MISS 6'5' 315lbs
Brown is a guy I will keep hounding on should be our seventh round pick. I think he will be there and partly due to no one position ever did he call home..but succeeded at all in a very tough conference. A versatile lineman that late in the draft that could battle at RG or RT or serve as your back up C is a value pick if I've ever seen one.