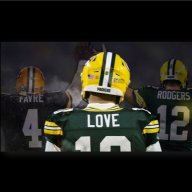 Joined

May 2, 2012
Messages

12,222
Reaction score

3,872
Again I'm operating under the assumption Rodgers and Gute both know it is over, it is just hard actually ending it is all. Coaches leaving, cap looming, cuts having to happen - it will be a rebuild to a degree even if Rodgers would stay...so we get a haul from Denver - Their 2022 1st, 2nd (40th) and 3rd (#96) and a 2022 First as well with as one could imagine maybe some Day 2s or a fourth somewhere in there or a player...either way taking their first, first of two seconds and their second of two thirds this draft all in the top 100 makes things REALLY interesting.

I also add in a trade back, because I STRONGLY believe if Gute goes this route reloading as quickly as humanely possible with equity to grab a QB in 2023 will be top priority...so we trade the 9th overall to the Steelers for a first (20th) and a third (84th)...in real life I could see this garnering Gute something more in 2023 maybe a 4th or 5th as well...

So look at how fast starting caliber players are plugged in and a rebuild is begun quickly:

First Round #20 - Devin Lloyd - Linebacker out of Utah - 6'3' 235lbs
De'Vondre Campbell illustrated what can happen when you get special play in the middle...this draft IMO has two top flight draft and play type potential LBs in Nakobe Dean and this guy Devin Lloyd. Lloyd from the time he got on campus illustrated incredible athleticism, agility and speed....but what he has begun to do in the pass defense categories over his last two seasons and the coverage ability growth is why he very well may and will IMO be the first ILB selected. His ability to anchor in a lane, shed and sound tackling is incredible...and no before you go there I'm not talking the Blake Martinez type LB that does this and does it well - just four yards deep. His ability to know when ground has been won and will make the tackle there....but he is a thumper with a motor and attacks downhill more often than he doesn't, illustrated by his 43 TFLs over his last three seasons, and 22 of those in 2021. Like I said earlier his pass skills and what he was asked to do there was incredible this year; if rushing he produced (7 sacks) if covering he produced (4 INTs and 6 PDs). Draft and play - fully expect we resign Barnes due to his output and consistency vs what he will cost, and this pair I think will continue for the third year to have a productive middle for our defense.

First Round #28 - Jermaine Johnson - EDGE out of Florida State - 6'5' 265lbs
It isn't easy to produce when your team isn't that great, other teams isolate and focus on minimizing you - yet that is what Jermaine did at FSU. Johnson has the football IQ, body, athleticism and strength to be asked to put his hand in the ground and succeed or play that outside edge position. There are some EDGE guys in this draft that will out produce Johnson in sack totals (he still put up 11.5 in 2021), but his overall performer and consistent disrupter and stout wall in the run game and pocket control arguably could put him as the most consistent EDGE likely to go in the Top 40 picks of this draft. With one Smith and maybe both gone, Gary is going to need another stout counterpart - and from the drop I truly think Jermaine is ready for a lot of snaps. Want to watch him dominate his opponent infront of him against solid OL - watch his 2021 game against Notre Dame. He will start in the NFL.

Second Round #52 - Jalen Tolbert - Wide Receiver out of South Alabama - 6'3' 190lbs
In order to build a successful offensive unit, Love is going to need to have some high ceiling skillful guys to build a relationship with. Tolbert can play - such a simple statement but is purely true about this cat. Back in 2020 only six WRs had more yards than him, two caught passes from first round QBs, two more caught passes from first round candidates in this year's class....Tolbert didn't have CLOSE to that and did what he did. What did he do in 2021...oh only tack on an additional 400 yards nearly with only one more game than in 2020 played in....on a terrible team to boot (they went 5-7 in the Sun Belt). This year only five guys put up more yards with one being Jameson Williams barely and also Jaxon Smith-Njigba from OSU....Tolbert is a beast. Only Jameson Williams had a higher YPC out of the top 8 receiving yard getters in Division I this year....which look out MVS Tolbert may not be quite as fast but he is a bonafide deep threat with three straight seasons averaging 17 or more yards per catch (19 in 2019 and 18 this year). High catches balls, quick route feet, runs through catches and has excellent RAC...I love this guy's potential. No other WR, outside of maybe Watson NDSTU, continually keeps me wanting to lift him up on my board than Tolbert. Is he a #1 out the gate....we will see, that wouldn't surprise me - but I do believe he is a #1 by the time his rookie contract is done.

Second Round #59 - Lewis Cine - Safety out of Georgia - 6'1' 200lbs
We have Stokes and Jaire for now...who knows who else resigns...Cine is that safety that plays the run game VERY well, and is a rare DB with violent tendencies when attacking the ball carrier. I envision him being dropped down in LB positioning in sub-packages where he can cover or blitz out of. Drafting a starting caliber safety who has throughout his career sees high success against the best in the collegiate level as a bonus defender or the "star" in many of Barry's scheme is a massive blessing and one which cannot be welcomed enough. He contributes year 1 without a doubt.

Second Round #64 - Kingsley Enagbare - EDGE out of South Caronlina - 6'4' 265lbs
I stressed before and I'll say it again, if we want to see a Love led Packers team succeed an infusion of talent and skill needs pumped into the defensive side of the ball. This pick symbolizes that more than the others due to we are doubling up early at a position. Kingsley is projected by many to be a starter in his own right just like Jermaine selected earlier. Enagbare saw playing time as a true freshman at a school that sees top flight competition every year and was the full time starter the final two seasons at SC. He is a supreme athlete that uses his quickness and his speed to disrupt the opposition's pass offense more than his strength and positioning. The good news is strength can be built and positioning can be coached...speed is mostly what it is at this point. I see a lot of Gary when I look at Enagbare, not that they're the same type of player but both with incredibly high ceilings of which I'm not even sure they're aware of coming out of college. Used with his hand in the dirt more than some EDGE guys in the draft, it could be that he is flexed inside for a Lowry type role - most likely meaning we add to his frame some, but I think outside is definitely where he is best suited to be coached up and be a lethal weapon on the EDGE in a game that defenses cannot succeed without those spots being deadly. He and Jermaine together growing alongside Gary (without considering growth in Garvin and Rivers) is an insane thought looking forward to 2023 and 2024...

Third Round #92 - Christian Watson - Wide Receiver out of North Dakota State - 6'5' 208lbs
I mentioned him earlier when sharing how Tolbert continually makes me want to elevate him up draft boards because he like Tolbert does that exact same thing the more I watch and study. He is that rare breed of WR with incredible height, length to go with it and speed all in one. What I love is he doesn't produce because of jump balls or due to his height...his foot quickness and route breaks are weapons in their own right. His ability to drop and separate at the top of routes is something a lot of WRs coming into the draft don't seem as refined at. In short we have a high ceiling, but also highly skilled WR to pair with Tolbert and Love (and another to come) that will mesh and grow together.

Third Round #94 - Jeremy Ruckert - Tight End out of Ohio State - 6'5' 250lbs
Yup, I did it...another third round TE. However, this pick out of all of our TEs over the years is IMO the most NFL day one ready if we ask him to start. Ruckert has been Mr. Consistent ever since stepping on to campus for the Buckeyes. He blocks, he splits out, he is a red zone threat - in short he produces and does what is asked consistently. He was the fifth option behind Olave, Wilson Smith-Njiba and Henderson and STILL produced solidly. Big Dog cannot keep playing forever, Tonyan's injury is iffy...Deguara is growing but is a certain type of TE. Mark my words that Ruckert will start in the NFL for whomever he is drafted by, year one even depending on the roster in front of him.

Fourth Round #128 - Dare Rosenthal - OT out of Kentucky - 6'7' 327lbs
Dare projects for me as a guy that could swing to either side of the offensive line and see success. With Bakh and Jenkins both injured this year, Turner's contract to explode causing possible cut consideration and Dennis Kelly no longer having a contract either RT is wide open for the taking. Some would argue Newman could slide over if the team decides to somehow bring Patrick back...Yosh might be the team's vision at RT if Bakh comes back to old form in 2022...either way having another guy in the room with starting potential is a bonus even if he doesn't win the job. Dare has the size, arm length and foot quickness to succeed at the next level without question. He may have the best combination of quickness and power in this draft in the OT class...but is raw for sure, and just in 2018 was a convert from the DL position group. You're drafting Rosenthal for what all signs are indicating (ala Rashan Gary and Kingsley earlier in the mock)...you may have a starter in 2022, but most would say you for sure do by 2023.

Fourth Round #137 - Ed Ingram - iOL (with T ability) out of LSU - 6'4' 320lbs
Ingram has been seeing action for the Tigers since his true freshman season, where he played in all 13 games. Largely tasked with starting responsibilities at both LG and RG, his arm length and abilities also project well as a serviceable in a pinch type Tackle as well. Green Bay loves versatile OL, and while we more so like drafting OTs that can swing in, here we get an experienced guard that could swing out if needed and I believe he is instantly a threat to Newman at RG for the starting gig - which Newman wasn't terrible, but he was rookie bad at times during the year...worst case Ingram pushes Newman and elevates the depth of the OL room as whole, which is just as valuable to having Love see success as it is to have good weapons for him.

Fifth Round #169 - Josh Williams - CB out of Fayetteville State - 6'2' 197lbs
Here is the shock pick of this draft for most...yes he is a DII level guy...yes I'm taking him in the fifth...arguably earlier than many would assume needed. Williams has illustrated all the tools needed to be a deadly steal in the NFL draft....and is the only DII player that was invited to the Reese's Senior Bowl. It isn't the easiest to find but if you watch what is out there you will quickly see a coverage corner with incredible hips, plenty of speed it seems, and his ball skills are there. Rumored to have had some scouts eyeing him for a late Day 3 or priority UDFA - he has begun to creep more and more into the boards of teams for draft day and his invite to the Senior Bowl could be the point where he showcases to more that he could have the potential teams cannot allow to go undrafted. Is this high for him...time will tell, but we have a premium of two bonafide starters already and luxury of picks - I'll gladly take a young man with a fire inside and desire to prove to everyone just who he is.

Sixth Round #211 (we package a couple of our 7ths to Rams) - Christopher Hinton - iDL out of Michigan - 6'3' 310lbs
He declared one year too early IMO and many others. With so many of that Michigan front leaving perhaps he felt they would take a step back and he wouldn't get the exposure they just did this year....I don't know....he has the chops and the pedigree to have been the best there possibly in 2022 and IMO play his way to be a Day 2 pick most likely. He is more a DE but did slide into NT for passing packages and provided solid pocket pressure and movement. He is young, which isn't a bad thing - with that low mileage though comes some raw and most likely rookie issues for sure. He will be serviceable for a few snaps his rookie year - but like most drafted this late it's a gambling game of whether he succeeds long term or not.

Seventh Round #245 - Ben Brown - iOL out of Ole Miss - 6'5' 315lbs
He primarily aligns at RG, but as I've said before about him he is a versatile move everywhere along the OL and I mean literally anywhere. It will be interesting to see how his measurables stack up, but to get a versatile all 3 position type guy this late that has a floor as a solid depth type guy is a blessing at the end of the draft.

In a world we don't trade Rodgers and we kick fiscal responsibility further down the road...here is a quick sit tight February Mock:

First Round #28 - Drake London - WR out of USC - has every tool you want a WR to have, day 1 #1
Second Round #59 - JoJo Domann - LB out of Nebraska - think more LB but hybrid like Owusu from last year
Third Round #92 - Boye Mafe - EDGE out of Minnesota - high ceiling type pick
Fourth Round #128 - Markquese Bell - S out of Florida A&M - Can play the run dropped down if needed, can match TEs or run as starting Safety high.
Fourth Round #137 - Haskell Garrett - iDL out of Ohio State - Instant support snaps with potential to start by year two.
Fifth Round #169 - Cade Mays - iOL out of Tennessee - I believe frees up Newman to battle for RT and is our RG of 2022
Seventh Round #224 - Ty Fryfogle - WR out of Indiana - once projected to be a Day 2 prospect but declined after a big year.
Seventh Round #245 - Trae Berry - TE out of Boston College - has hands but experienced blocker
Seventh Round #255 - Kurt Hinish - iDL out of Notre Dame - did the dirty support roles for years at Notre Dame...lunch pale type that is a coin flip at next level.
Last edited: