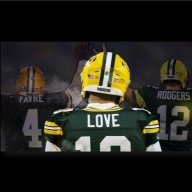 Joined

May 2, 2012
Messages

10,986
Reaction score

3,110
I know some feel this changes nothing...but it does for me. King is far from what I want outside opposite Jaire, but I get it. The team is high on him, shoot Davante praised the crap out of him in that video interview where he and Richard Sherman talked routes, reads and such. Sullivan is also coming back...CB is still something I want to come out of this but I'm going a different route now most likely - especially if Newsome is gone and the sub 8 RAS Asante Samuel Jr put up...
I call this one "Winning In The Trenches" - yes
@Favre>Rodgers259
as you know you and I share similar thoughts often in draft approach, despite sometimes quite fervor difference on prospect opinions...the King signing changed our mindset in a very similar way.
FYI Packer fan base will hate this as it ignores skill positions till very late.
#29 - Christian Barmore iDL
- Look I struggle to draft one of the few DL I feel could be a team's #1 given we have Kenny Clark. I typically would say let's compliment him not present "possibly his eventual successor" - BUT dear lord give me this DL (Clark, Barmore, Keke, Lowry..and others) YES! Barmore already has many of the tools drooled over by teams, here he will contribute out the gate but also provide Clark some incredible assistance he just hasn't gotten. My DT#1.
#62 - Quinn Meinerz iOL
- Yes, I don't have Quinn graded quite this high, but yes I don't want to wait till the 3rd for him and his ceiling is incredible. I've thought about some pure Centers here, but I prefer someone with interior versatility at both guard spots AND has shown immense promise at center too in his senior bowl, pro day and workouts. His swing ability assists us greatly on the interior and I think will start somewhere in the middle. He is my iOL#5
#92 - Paulson Adebo - CB
- Many know I'm much higher on him than some. What once was ranked as the 2nd or 3rd best CB possibly entering the 2020 draft - Adebo was hurt by the 2020 covid season...but he shined at his pro-day with the measurables and while quite a few have passed him arguably and he doesn't fall in my locked rankings of CBs - he is in that CB9-CB12 area for me. Do not be surprised should he overcome King by the season's end or shine if King is injured (which is quite often over his years).
#135 - Josh Ball - OT
- Allow for Dillon/Deguara type reactions...........breathe........yup you didn't misread. Ball to me is the 13th/14th best tackle in this draft. I'm done allowing pundits or others expected spots dictate my draft the touch I allow it to. (Meinerz illustrated this as well). Josh's biggest obstacle to justify sliding up to EARLY Day 3 is a teams' opinion of any character issues which could linger from his issues at FSU. To me I see a different young man now vs then - his size is incredible, his length special - his height will need taught to not get too tall but I project him to be more than capable to hold down RT should a team need him there.
#142 - Daelin Hayes - EDGE/DE
- I keep seeing him chatted a Day2/early Day3 type and love him if here. Can stand and play or put hand in the dirt and assist in winning the trenches. Stout chiseled frame not in need of anything additionally. Clark and the other front 7 are smiling again as he joins Barmore in the class of assistance.
#173 - Tony Fields II - LB -
Here we go again with Tyni "reaching" to many on a prospect. Fields started out at Arizona and shined, came over to West Virginia for his senior campaign. Undersized linebacker built like a big safety that FLIES around the field. He reminds me of Owusu from ND in his undersized nature, but is much more willing to torpedo into a fight. His size means often times while willing he needs assistance to finish a ball carrier being brought down. His range and athleticism to me compliments the LB room well and I expect excelling on special teams and a larger role as he overtakes Burks and Summers IMO.
#178 - Tre' McKitty - TE
- I have McKitty as a tie for TE#6 with Yeboah. Shined at Senior Bowl and was underutilized in college. Folks will say he isn't worth it by only looking at the stat lines...dig deeper folks, dig deeper.
#214 - Isaiah McKoy - WR
- Folks this is one of my favorite Day 3 targets no one seems to be talking about. A slight but taller target at 6'3" this cat put up nearly 500 yards in just FOUR GAMES for Kent State in 2020. FOUR! 5 TDs in that stretch, 25 receptions and 18.2 YPC. Fits the prototypical Packer receiver type Gute appears to love, offers high upside and a potential role replacement for MVS should he leave or quickly replace EQ in 2020 if he isn't careful. Look him up, you'll love what you see - and I guarantee majority of folks are reading his name for the first time.
#220 - Jermar Jefferson - HB
- I've discussed him a lot elsewhere. Change of pace but with a punch option that is comfortable in the passing game. Would be great to compliment Jones and Dillon.
#256 - Bryan Mills - CB
- Everyone knows he is my infatuation at CB that I think everyone is sleeping on. FCS sure, but watch and study him - kid is special. Could obviously see a lesser known FBS guy come off the board to us but I like this spot for a LB or DB here (like Robert Rochell here too or Willie Eubanks).
There ya go, my board is crystalizing and this is the fall out of it - there are 4 picks many will argue are reaches (Meinerz, Ball, Fields, McKoy) but no worry, let the roasting begin. I don't believe I'll be eating crow if this played out.