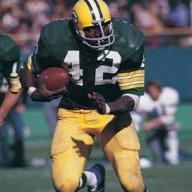 Joined

Jan 21, 2017
Messages

10,572
Reaction score

1,550
1.29: Eric Stokes, CB, LSU
2.62: Josh Myers, OC, Ohio State
3.85: Amari Rodgers, WR, Clemson
4.142: Royce Newman, OL, Ole Miss
5.173: Tedarrell Slaton, iDL, Florida
5.178: Shemar Jean-Charles, CB, App. State
6.214: Cole Van Lanen, OL, Wisconsin
6.220: Isaiah McDuffie, LB, Boston College
7.256: Kylin Hill, RB, Mississippi State
***

Favorite Pick:
Amari Rodgers; he has the skill-set to bring a new dynamic/wrinkle to the offense.
Least Favorite Pick:
Royce Newman; None of these guys are problematic for me. But I think they had an opportunity at #142 to draft someone with more true tackle ability than Royce Newman. He might be able to play tackle, but I think even Jon-Eric Sullivan admitted that he's more of a guard body type. And he's also going to be a 24 year old rookie. So with Tommy Doyle and Jaylon Moore still on the board there, I think he maybe could have gone a different direction.
Thoughts:
Gutekunst moved off his usual tendency regarding RAS scores. In three drafts prior to this weekend, the Packers had taken three total players with an RAS below 8.0. He took five such players in this class on its own. Jean-Charles (4.17), Rodgers (5.37), Hill (7.31), McDuffie (7.33), and Slaton (7.96) were all non-qualifiers for this perceived threshold (so three of them were relatively close). One has to wonder if this is the beginning of a new trend for the FO, or if this is an anomaly in a season without reliable/consistent metrics (no combine). They may have not trusted the data, or they might have had their own numbers that were different from what the public had. One other possibility is that teams are increasing their use of GPS data, which will probably make combine metrics obsolete in time.
I enjoyed being surprised with players who were off my radar. Largely because of the big break with the RAS tendencies, I didn't focus on many of these guys and it was fun to be surprised and do some homework on them.
One such surprise was Josh Myers-- a guy who didn't get much buzz during the process because he was rehabbing a toe injury. I liked that the Packers didn't force a tackle, and instead turned to center, where they had their pick of guys not named ****erson. So rather than take a lesser guy at a position that had been picked over, they took their guy at the pivot, choosing Myers over the much ballyhooed Creed Humphrey and Quinn Meinerz.
All three of the OL drafted possess some versatility. I mentioned before the draft that it was hard to know what position(s) on the OL would be emphasized without knowing where they prefer to play guys already on the roster (esp. Jenkins and Turner). The guys they took will give them lots of options.
The first three picks offer the possibility of a lot of impact in year one. Expectations should be tempered-- most rookies are bad. But Stokes will likely be a top 3 corner, Myers could easily be the starting center, and Rodgers should have a role in the offense.
Last edited: