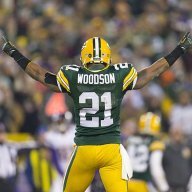 Joined

May 15, 2017
Messages

427
Reaction score

28
Nope. Teams that score more points tend to win games. Paging Dr. Madden...

Joking aside, you can score lots of points without racking up lots of yards. You can also accumulate a lot of yards without scoring points.

It's a passing league because it is more efficient. Consider the worst starter (in terms of efficiency), no. 33, Mitchell Trubisky, averaged 6.1 yards per attempt.

The best running back (in terms of efficiency), Raheem Mostert, average 5.6 yards per carry. However, he did that on only 137 carrier. The best with over 200 carries (303) is Derrick Henry--he averaged 5.1 yards per carry.

In a vacuum, one could argue that it's better for Mitchell Trubisky to throw in a given situation that it would be for Derrick Henry to run.

And that's just about to wash out of the league Trubisky vs. Dragging his team through the playoffs damn near by himself Henry.
Ha ha love me some Madden. I understand the efficiency aspect. Passing can get teams down the field with less plays but is also more likely to produce negative plays and turnovers. A strong running team can milk the clock and move the chains. Football is a great sport and so much contributes to wins. God I miss football.