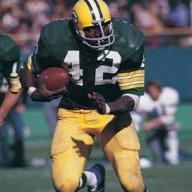 Joined

Jan 21, 2017
Messages

11,340
Reaction score

2,274
Because of the Davante Adams saga, the wide receiver position has gotten virtually all of the attention as concerns the Green Bay offense. And certainly, his departure really matters and I would not argue otherwise. But, the Packers' offense is capable of succeeding without Adams on the team (and I believe it will). The solution isn't to add back in a talent like Davante.

It's health and execution on the offensive line.

Drive #2 (Punt) was ended by quick pressure and a sack as Za'Darius went right through Jake Hanson.

Drive #3 (Downs) was ended when Jonathan Bullard (a mere journeyman) reset the LOS against Hanson and stuffed A.J. Dillon.

Drive #5 (Interception) was ended when Harrison Phillips (again, a journeyman) went right through a Myers/Hanson double team, flushed Rodgers, and #12 decided to throw an ill-advised pass to Cobb while rolling left (not absolving Rodgers on that play, but it doesn't happen if there's protection).

Drive #7 (Fumble) was DOA when Za'Darius knifed right between Myers and Runyan immediately (they ended up blocking each other-- go watch).

That's in addition to drive #9 ending with a sack (more of the coverage variety, but Rodgers still didn't have a ton of time) and drive #10 ending on downs because of an incompletion when even if that pass had been caught, it would have been called back due to a penalty.

The point is this: the narrative on Sunday was "Look how many yards Adams has compared to the Packers' offense." That ain't it. The offense didn't function because the OL was not executing.

In a few weeks when the line is some combination of Bakhtiari, Jenkins, Myers, Runyan, and Nijman, things will look markedly different. They may look markedly different this Sunday if the guys on the field play a little bit better.