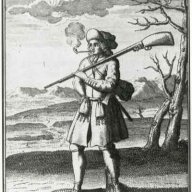 Joined

Nov 10, 2021
Messages

1,486
Reaction score

1,072
The run/pass ratio will be determined by the read of the defense across the line of scimmage. Since the majority of plays will be run from a shot-gun formation, with one or two players as WRs or RBs back with the QB, they can choose either, with every play. The ability of the QB to decipher which priority is out there for the defense, and choose the opposite.

Since the Badgers are already a power running team, that won't change. But the results should. They'll get a better return on each run, maybe as much as 1 or 2 yards per carry more, than in the past. When the defense clamps down, and they start seeing 8 or 9 in the box, the ball is definitely going over the top. The key is having a QB who understands the system, and knows how to read those defenses, and exploit them.

This is the kind of offense that can even get the upper hand on a defensive giant like OSU at times, simply by out-scheming them, and putting up enough points to challenge them.

I think we're going to see roughly a 57-60% pass percentage in 2023, possibly even a little less, because there will be holes for our RBs to exploit. Of course, I'm basing this on the fact that the QBs we'll be seeing have already proven they can work in this particular offense.