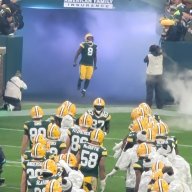 Opinions are like A-holes, we all have one.
Joined

Oct 30, 2012
Messages

30,691
Reaction score

6,902
Location
I had never went back to Aaron's 2007 (year before switch) and looked at just what he showed, albeit I remember that Dallas game and truly seeing something like everyone else but this is a little odd:

Rodgers played just limited snaps week 10 vs MIN that year but then DAL he had 26 attempts, 18 completions with a TD...he ended the year with this line:

20 Completions / 28 Attempts / 71.4% / 218 yards / 1 TD

Love last year ended with this line:

14 completions / 21 Attempts / 66.6% / 195 yards / 1 TD


Just from actual regular season snaps taken I really wish a reliable source dated back to Rodgers as I'm assuming Love has given GB far more real season snaps than Rodgers had to this point but that's a claim I cannot make.

If you add up all of Rodgers stats before his switch season and Loves it is:

RODGERS
35 Completions / 59 Attempts / 59.3% / 329 Yards / 1 TD / 1 INT
LOVE
50 Completions / 83 Attempts / 60.2% / 606 Yards / 3 TD / 3 INT

Just crazy to think GB has more intel/live reps to judge Love off of than we ever had on Rodgers.....amazing how time at least made this Packer fan forget just how little actual knowledge of who Aaron was existed beyond practice flashes or pre-season stuff. I would have argued we knew or saw more, but truly that Dallas game was essentially it.
I would also add that during each QB's time as a backup, Rodgers was working with a much better receiving room.