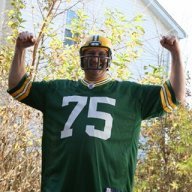 Joined

Jul 3, 2014
Messages

3,359
Reaction score

1,366
Location
This whole "draft another QB" mentality is troubling for me. Go through the last 20 drafts and of all the QB's selected in the entire draft, how many worked out well? Maybe Packer fans are spoiled, because for the last 30 years, we have had back to back HOF QB's? Love may be the next guy or he may not be, but if he isn't, let the process of finding the next one begin.
I started from the '10 draft (13 yr history) and these are the "decent" QB's NOT drafted in the 1st round:
'11 - Dalton (Rnd 2, pick 3); Kaepernick (2,4)
'12 - Wilson (3,12); Foles (3,15); Cousins (4,7)
'13 - Geno Smith (2,7)
'14 - Carr (2,4); Garoppolo (2,30)
'16 - Brissett (3,29); Prescott (4,37)
'19 - Minshew (6,5)
'20 - Hurts (2,21)
'21 - Davis Mills (3,3)
Purdy (7,41) is the only QB from '22 or '23 with any success, so far.
While not a popular pick Love at #26 was playing the odds. Not much QB success after round 1 so Gute took a shot... couldn't leave the cupboard bare, IMHO.
Going back earlier than 2010 VERY FEW QB's after round 1 did anything in the NFL except for Josh McCown, Brady, and maybe even Schaub & Garrard.
http://www.drafthistory.com/index.php/positions/qb
Last edited: