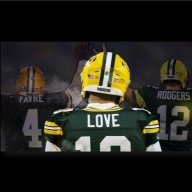 Joined

May 2, 2012
Messages

11,662
Reaction score

3,509
Folks, mainly a few, blasted me for bringing up hypotheticals of a Davante trade before rumors really heated up. I'll dabble back into the waters...what COULD a world of trading Rodgers to Jets look like?

I may be a rare opinion in this but I don't see a haul like some are pretending will occur. YES he is still a starting caliber QB, had he not broke a finger who knows how different this year would have been...however he is still just a year of being a back to back MVP.

That said I think the Jets package COULD look like this:

Jets send us #13 / #114 this year + a 2024 conditional 2nd rounder (could become 1st) + an additional 3rd or early day 3 type pick in a year I could see get thrown in. Essentially though you're talking a 1st and a fourth this year plus a conditional 1st in 2024.

Green Bay sends them our this year 5th (presently 151 estimated) PLUS Aaron Rodgers. With us possible sitting on 5 7th rounders (two more comps) I could see a world where we send one or a few of these back as well - for this exercise we will just ignore any comp 7th rounders in the mock.

Having officially entered the Jordan Love era....what might happen:

#13 - Lukas Van Ness EDGE Iowa
#15 - Jaxon Smith-Njigba WR Ohio State
#45 - Darnell Washington TE Georgia
#78 - Mike Morris EDGE/DE Michigan
#110 - Emil Ekiyor iOL Alabama
#112 - Ronnie Hickman S Ohio State
5th Round Comp Pick - Clayton Tune QB Houston
#204 - Riley Moss DB Iowa
#211 - Kemari Averett TE Bethune-Cookman
#221 - Tiyon Evans RB Louisville

I know eyerolls ensue the way we grab a defender early...however lets be real. Gary isn't back most likely right away, Enagbare overshot many expectations (not me I loved hiim) but does he show a regression or keep progressing in year two? No one knows. Van Ness instantly has the skillset and physical traits to take snaps IMO from everyone not named Gary/Smith/Enagbare on our roster.

Jaxon Smith-Njigba is a WR I'm trying not to let my distain for OSU hurt seeing him as a prospect. This guy is a lethal WR weapon that is comfortable working out of slot or out wide and imagine a world where we can move him and Watson back and forth with Doubs split wide...you have three should be lethal young guys growing together and building a bond with Love.

Darnell is about as Big Dog comp worthy prospect at TE we've seen of late and pair him with a resigned Tonyan maybe or another low level TE could be very beneficial.

I won't bore you with all the rest narrated but Ekiyor to me instantly allows us to sit Runyan or move Tom to RT as he is a day 1 inside starter IMO.