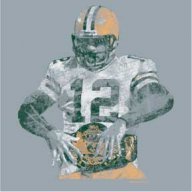 Joined

Sep 16, 2016
Messages

6,428
Reaction score

2,049
I'd like to credit Green and Gold for giving me the idea to really dive into the numbers.

I probably should wait until after the Dallas game to really get a good idea of where he stands with Dak being towards the top, but just taking a look at his numbers with todays performance:

He now leads the league in touchdown passes with 32 (add 3 rushing TD's for 35 total)

His completion percentage is now north of 65%.

Only 7 interceptions.

Over 3,500 yards with 3 games to go. And he also has around 300 rushing yards. He'll certainly have more when the season is over with. He didn't have over 300 rushing yards in either of his MVP seasons (11, 14)

He's 4th in total QBR at 77, that will certainly go up with today's throwing clinic. His passer rating of 98.5 will certainly move to above 100 for the season with today's 150.8.

Now, also take into consideration the way that he has played since week 7. A lot of times what is taken into consideration is how do you finish the season? In Rodgers' case, since week 7, he's thrown 22 TD's to 3 interceptions, completing 68 percent of his passes and has had a passer rating of 100+ in 6 of those 8 games. He's also thrown for 2,359 yards in that stretch, all of these numbers if I am not mistaken are best in the NFL over that stretch, maybe with exception to the passer rating. - Check that, Dak has had more 100+ passer rating games over the last 8.

So with this being said, I clearly feel as if he has played his way into the conversation. Not that he is necessarily the front runner. This will be contingent on:

1. His health
2. If he continues this great play
3. If he gets us to the postseason

If so, I think he's at least a top 3 consideration.

So I guess my question is, do you agree that he is in the conversation? And if so, where would you rank him among the other candidates? Me personally, I currently have Dak, and Ryan ahead of him.