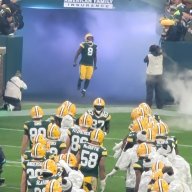 Opinions are like A-holes, we all have one.
Joined

Oct 30, 2012
Messages

30,691
Reaction score

6,898
Location
Sadly, I don't think our good friend
@AmishMafia
is coming back.
However, to honor him and in keeping with his tradition, his annual contest will continue!
Below are his rules to follow.
Does anyone want to volunteer to be in charge of tallying after the draft? That way, if Amish ever does come back, he will be able to give the winner a very prestigious and major award!
How it works:
Supply 20 names of players and the round the Packers may take them.
Rules:
Select a total of 20 Players
Pick at least 1 player per round
List their name and position.
Thread gets locked when 1st pick is on the clock
Correct Player: 3 pts
Correct Player in Correct Round: 3 PLUS the round number pts
Therefore if you go:
Round-Player
1 - Bob wr
1 - Mack pk
2 - Steve te
2 - Ed olb
3 – Chuck wr
4 - Marty s
5 - Pete s
And the Packers draft Ed in the 3rd and Pete in the 5th, your points would be:
Ed (correct player) 3 pts
Pete (correct Player in Round 5) 3 + 5 = 8 pts
11 pts total