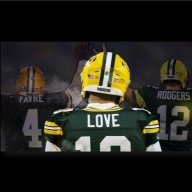 Joined

May 2, 2012
Messages

6,060
Reaction score

827
I love the stokes pick. Go read the story about his first practice. He was warned "don't get beat on the 9 route" (it's similar to what king got burned on in the nfccg).

The story ends with "and Stokes never did get beat on a 9 route".

If last year was a "F-U" to AR, King has to be sitting here like "WTF" right now.
Honest to God, King has the tools but gets lazy IMO. If he is playing up to his ceiling and Stokes is even half the prospect we hope, 2021 this team could have a VERY scary good DB unit and allow Jaire to do some freelancing around.