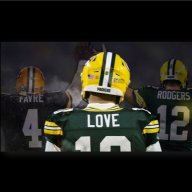 Joined

May 2, 2012
Messages

12,222
Reaction score

3,872
Not sure why I do it but each year I like to sit down and attempt my hand at being prophetic with production predictions for our beloved Packers. Feel free to join me in the attempt, and we can both drink in misery when we fail miserably at predicitons.

Primarily looking at skilled positions -

QB
Aaron Rodgers - 411 Completions on 552 attempts for 4600 yards & 50 TDs
Jordan Love - 11 completions on 17 attempts for 87 yards & 0 TDs in scrub time

I think there is a solid chance with arguably the most motivated Rodgers we've ever seen he runs a serious streak and has us in a position to possibly sit him the final week or possibly final two so numbers could shift a touch.

RB
Aaron Jones - 227 rushing attempts for 1185 yards, 9 TDs / 50 catches for 400 yards, 3 TDs
AJ Dillon - 137 rushing attempts for 700 yards, 4 TDs / 17 catches for 225 yards, 1 TD
Kylin Hill - 25 attempts for 115 yards, 1 TD / 11 Catches for 100 yards, 1 TD

That means the group produces around 2,000 yards rushing and around 800 yards receiving - this is about 300 yards more than last year's RB (which included Ervin 67 yards) but we have one more game and we have a better backfield I feel rushing wise this year.
This group excites me, it is always a risk with Jones he misses some time, but this group seems like it could be VERY productive.

TE
Robert Tonyan - 60 receptions for 650 yards and 9 TDs
Marcedes Lewis BIG DAAAAAAWG - 13 receptions for 115 yards, 2 TDs
Josiah Deguara - 25 receptions for 225 yards, 2 TDs
Dominique Dafney - 5 Receptions 75 yards, 1 TD

Tonyan continues being SOLID, Big Dawg is a stud blocker and dependable hands (albeit connected to slow body) - Deguara is the X-Factor and his production might cause Tonyan to drop a small amount honestly.

WR
Davante Adams - 132 receptions for 1500 yards and 15 TDs
Marquez Valdes-Scantling - 48 receptions for 800 yards and 8 TDs
Randall Cobb - 45 receptions for 500 yards and 4 TDs
Allen Lazard - 35 receptions for 400 yards and 4 TDs
Amari Rodgers - 17 receptions for 200 yards and 2 TDs
Malik Taylor - 12 receptions for 165 yards and 1 TD

Injuries for sure will impact this but wholly healthy I see something like this playing out. MVS is going to have a drop % less than 9 (was 11.1% last year - for reference Lazard was even over 10%) and a "break out year" but there is only so high he can go given all the excellent weapons of this offense.


Other position notes - Newman starts and holds onto his starting guard position. Jenkins has one rough game at LT but otherwise shines at LT while Bahk is out. The young OL goes through some growing pains but by about Week 8 has really hit on all cylinders and the protection afforded to Rodgers is great.

Defensively I believe King will yet again and rightfully saw see a crazy amount more targets than his coutnerpart opposite in Jaire (you'd be a fool to not do this if the opposing coach). However, I actually believe we have a bit of a 2019 resurgence from King breaking double digits in PDs, 4 or more INTs. This in the long term makes Stokes grow much better into what we need him to be, albeit maybe not faster.

Gary is going to overtake Preston for snaps or at MINIMUM equal snaps - the time has come, Gary's break out year is this season. Keke continues to provide outstanding DL pressure and hits half dozen sacks....Clark with more depth behind him (especially towards end of the year when Slaton is providing more rest to him) returns to his 2018/2019 form and also breaks half dozen sacks but most importantly just becomes that inside WRECKER he is.

Gary was the first I'm going to say Darnell Savage just becomes a turnover beast this season. I'm going to predict 6 INTs and I think he will be a part of at least 2 fumbles (either making or recovering).

***I will say in receiving yards something has to give most likely as I sense the overall figures are high at 5,355 - BUT the issue there is assuming full health from everyone - just simply NOT going to happen.