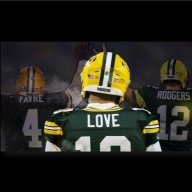 Joined

May 2, 2012
Messages

10,973
Reaction score

3,102
While I do agree with your sentiment and observation, Rodgers is 39, has been hemming and hawing over this decision in each of the last 3 off-seasons and takes up a large percentage of the cap. At some point the carousel will stop and the longer the Packers wait for Rodgers to decide when he wants off, the less they benefit in the process, IMO.

Keeping him in GB another season, might seem "safe and familiar", but will even a healthy Aaron Rodgers, which isn't a guarantee, make this 8-9 team good enough to make a run at a SB? I doubt it.

As painful as it will be for some fans, the time is now overdue by a year, to get as much for Rodgers as the Packers can and let him finish elsewhere. Let the rebuild and repair the cap begin!
Agree and well said.
Only reason we keep Rodgers is nostalgia and legacy respect, has nothing to do with believing the team is measurably better at this point.