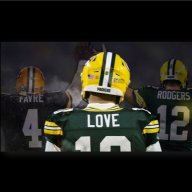 Joined

May 2, 2012
Messages

12,222
Reaction score

3,872
Days away...lot can be said and has been said on historical tendencies with Gute calling shots.
Top 30 visits have played a massive part of recent draft years where they occurred. Taking that and RAS tendencies into account let's look at a what might be based off of our 28 at this moment Top 30 visits + RAS and some need as well.
For the record...I pencil in a trade with the Jets as I don't think Gute wants the PR nightmare....it's a low return but not terrible...this years 42nd, a 3rd next year + Corey Davis for Aaron Rodgers and a 2024 5th of ours sent to Jets.....no conditionals, no 2025 picks...we are done and both sides walk away.
#15
- It isn't a seggsy pick - meaning an offensive weapon like many would desire...JSN was gone...Paris Johnson gone...I believe Gute and his staff in the end don't want to spend #15 on a TE...no good calls ring in with the return I'd like...so let's look at pre-draft visits that realistically make sense here...it's truly Kincaid, Mayer or Wright here no? I mean does Gute strike many of the fanbase dumbfounded again and Keion White is the pick? Oober traitsy but most think a year or two away from truly becoming what he is ala Gary? Will McDonald has the stuff but would be an outlier of age for Gute this early.
All that said and positional value being the tie-breaker. Darnell Wright is the name read and while many think it doesn't help Love, I argue it may be the most surefire bet to help him. To me this move makes Yosh moveable incase Bakh isn't healthy...frees up Tom to perhaps upgrade the middle at RG or C and you have a plug in day 1 RT of now and the next four years. (9.68 RAS and pre-draft Top 30 visitor)
#42
- Watching the Packer guys come off wasn't the easiest thing to do when Kincaid was still there late first I tried to move up but didn't want to do anything atypically bad in what it would cost and ultimately he and Mayer were gone by end of Day 1...McDonald another visit of our gone at 32...I tried trading up ahead of Raiders at 38 who I pegged as the team to grab him but couldn't...they didn't go him, and Hyatt going at 40 made Darnell Washington the pick at #42...second Darnell and second pre-draft visit and 8.00 plus RAS type guys. (9.88 RAS and pre-draft Top 30 visitor)
#45
- Two of the Packers pre-draft guys and Packer types are out there when I turned in Washington's name...with only two picks between me and 42 I essentially had it guaranteed either Felix Anudike-Uzomahh or Adetomiwa Adebawore. Personally FAU is more the prototypical OLB style guy and to me mimics Will McDonald so much who as we all know Green Bay liked and brought in for a visit. Adetomiwa is a SPECIAL prospect that many think could reduce in one play and the very next play be that big stand up OLB for a defense...I wish I had more faith in Joe Barry using such a piece to the best of the prospects ability but I don't and I hoped FAU would be there. (9.72 RAS and pre-draft Top 30 visitor)...BUT Atlanta picked him at 44. The only other Packer type and visitor that is on the board was Hendon ******...and I just don't see Gute doing that to Love in year 1...so the OOBER special traitsy Adetomiwa makes his GB debut in 2023.
#78
- I don't like the board honestly...I don't like the third round for GB honestly LOL....I wanted to trade off the pick but nothing to my liking really was there. Rashee Rice a WR prospect I love and GB had in for a visit went to the Patriots at 76...Mingo somehow fell to 73 and the Texans...a string of four true DL I loved value in the third on went between 66-71 (Benton and Dexter are Packer types included)...I had tried to trade up for Tyrique Stevenson a DB from Miami GB is high on but couldn't....
Sitting there the value or arguably the reach to some and steal to others is the one I keep coming back to. A cornerback from an elite backfield this past year....a guy that started playing Deep safety role as well as his slot corner in the oober talented backfield...a guy GB actually had in on a Top 30. A guy with over 900 slot snaps in the last two years...neary 200 deep role...and a position of need. Jartavius Martin is the pick...while he is only 5'11' he has ample strength to press slots if needed, the speed to play deep and has elite level explosion. (9.29 RAS and pre-draft Top 30 visitor)
#116
- This is where we leave the Top 30 visitors...however there is a guy here that is a lot like a few of the visitors we had and is like a player of the past as well in multiple ways. This receiver checks the box as the #1 guy in an offense that despite that produced year in and year out. GB likes fast off the line types and he boasts a 1.55 ten yard split...that's better than Lazard, Davante Adams and Jordy Nelson. His 3 cone is sub 7.00 which again is better than Lazard and Nelson and only Adams beat him by .09. He's that big (just shy of 6'2') framed (203lbs) WR type with low 4.5 speed (4.53 to be exact). So while he isn't a Top 30 visitor he is in the similar vein of Dontayvion Wicks who was and past guys...one last hint if he had played four years instead of only three in college he would have easily taken away many of Lazard's career records...... Xavier Hutchinson WR from Iowa State is the pick and yes, this dude in three years nearly broke 3,000 yards despite being the ONLY threat on the teams offense. He wasn't a visitor and doesn't quite eclipse the 8.00 RAS figure but his tape and production leave zero doubt...he can play.
#149
- A few visitors go before this pick...Jaquelin Roy iDL gone...Marte Mapu the hybrid S/LB gone just ahead at 145....sitting here a few names of visitors come to mind like Josh Whyle more a receiving type tall TE from Cinci to maybe pair with Washington...I could go with a RB but seems early and don't see any that shock me to have fallen to here worth it....in the end I go with a similar mindset to had Roy been there. iDL is a big need, BIG. I go ahead and scratch down the name of a guy that was a TE originally in college before stacking on 80+ pounds and switching sides of the ball. A guy that some are as high as a 3rd round "grade" but more a early Day 3 type given he is one of those center gap type DLs and they need to be special to go top 100. This is a guy that truly started putting it together last year and was making noise up the middle even on QB with 4 sacks but 22 hurries. Great against the run, LONG LONG arms help him control his blocker even if he gets stood up. Jerrod Clark from Coastal Carolina is the pick. He's actually a longer armed, 30+ pound version of Roy with slightly less floor but more upside and a better athlete IMO.
#170
- We are going to keep the non- Top 30 visitor picks going with Will Mallory...a receiving type TE that will have a VERY interesting player type comp everyone will recognize. Robert Tonyan and Mallory are nearly identical players...but Mallory is much more refined out of college than Tonyan ever even hinted at being. Nearly identical size, weight speed and such...Mallory however comes into the NFL much more capable blocker than Tonyan was and perhaps ever was. Mallory is the Whyle pick here that couldn't happen as he was the Packer Top 30 pick taken I was watching at pick 162. Mallory offers an excellent compliment to our entire TE room as he isn't quite like any of them but is a touch of all of them.
You must be logged in to see this image or video!
#232
- Debated moving up for one of our RBs from Top 30 visits as I started very quickly after the Mallory pick watch Mitchell go and Hull go...but decided more swings at picks the better and stayed kinda hoping Lew Nichols or Wicks would somehow fall to me at 232...and Lew Nichols actually was still there. A powerful, great vision type runner with explosive ability just not top end elite speed at all. Truthfully he is the replacement to Dillon as he doesn't mind trying to punish tacklers and his lower body build mixed with his vision can be a tough tackle. (pre-draft Top 30 visitor)
#235
- Jordan Howden the safety from Minnesota we had in on a Top 30 is next...with the drafting of Martin this is somewhat of a luxury pick but to be honest I'd love to have a reason there is no room for Shemar any longer in GB and Howden offers an explosive high level athlete that I think could shock folks. Tons of deep and box safety role snaps at Minnesota and a decent hands guy too. (8.88 RAS and pre-draft Top 30 visitor)
#242
- Tavius Robinson Edge guy from Mississippi comes to us here....he is the POOR man's Will McDonald or what might had been had FAU not been drafted at 44. A true build type OLB for us, his similarity to McDonald is slightly uncanny so while he wasn't a Top 30 he fits a similar vein to many that we did bring in...not to mention Mississippi has a knack for developing guys against that SEC schedule. Love his frame and size but look at those burst/explosion numbers...
You must be logged in to see this image or video!
#256 - Jacob Slade iDL from MSU gets the nod here...again not a Top 30 but an interior DL type guy who may eventually be that sub 300 Lowry type and I think we swing again to see what might be there in a room we need reserves and depth even if that is PS with limited elevation games. This young man played over 650 snaps for MSU in 2021 and excelled - best tape in that season IMO. (8.76 RAS)
Summary:
15 Darnell Wright OT
42 Darnell Washington TE
45 Adetomiwa Adebawore EDGE/DE
78 Jartavius Martin DB
116 Xavier Hutchinson WR
149 Jerrod Clark iDL
170 Will Mallory TE
232 Lew Nichols RB
235 Jordan Howden S
242 Tavius Robinson EDGE/OLB
256 Jacob Slade iDL
Plus Corey Davis and 3rd rounder in 2024
Last edited: