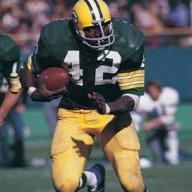 Joined

Jan 21, 2017
Messages

11,602
Reaction score

2,545
Player comps are really fun and I think they can be very useful. The problem is that most of the time, people just make comps for the prospects that they love, and because they love said players, the comps tend to be all be to HOF'ers and All Pros. Sometimes those are appropriate, but most of the time they aren't.

Here's my attempt to give some comp's on some players that I think are realistic. I'm trying to include guys I like and guys I don't. Many plays, I just don't know well enough to comp. Add some of yours. Do your best to be reasonable.

Wide Receiver:

-Jaxon Smith-Njigba > Cooper Kupp: If you're rolling your eyes right now, given what I wrote above, I don't blame you. But their play styles, NFL fit, and athletic profile are crazy similar. JSN technically ran a 10th faster in the 40, but his was pro day and Kupp's was combine, so even that is probably pretty close. And remember, Kupp is one of the best WR's in the league now, but he wasn't regarded that way as a prospect.

-Zay Flowers > Emmanuel Sanders: Sanders was a couple inches taller than Flowers, but otherwise they profiled very similarly to one another as athletes and in terms of play style. Early career Sanders was a boundary/slot versatile Z with great quickness and change of direction. That's how I see Flowers.

-Jordan Addison > Marqise Lee post stomach flu: Addison and Lee were both overhyped WR's coming out of USC who the NFL did not like nearly as much as the media did. Lee had about 20 lbs on Addison, but athletically they were otherwise similar. Another comp I like for Addison is Dede Westbrook.

-Quentin Johnston > Braylon Edwards: Similar H/W/S prospects who tantalize with their upside but just never quite play up to their gifts. Edwards strikes me as a good comp because when he was "on" he was great, but it was a pretty short flash. Johnston I find to be similarly exciting, but he also makes me nervous. I could also see comp'ing him as a lighter Laviska Shenault or Treylon Burks as I think early on in his career, he's going to be a manufactured touch player.

-Jalin Hyatt > Paul Richardson: Similar size, similar speed. Richardson was also a big play creator in college, and probably could have been a comparable deep threat to Hyatt had he played in that same offense will all the free releases and runways.

-Jonathan Mingo > Quincy Enunwa: This is probably an uninspiring comp to most, but before injuries derailed his career, Enunwa was on his way to becoming a really good power slot WR. He could play outside, but thrived in the slot, was great in the running game, was tough to bring down after the catch, had a lot of speed for a big man, and made some great plays at the catch point.

That's all for now.