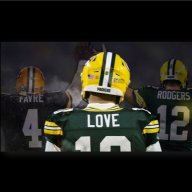 Joined

May 2, 2012
Messages

12,848
Reaction score

4,261
I'll try to share my positional group thoughts and notes more specifically...but this is more of a massive highlight summary of thoughts. As many know measurables (for the most part) are unteachable (refine-able as a coach told me once though) - so really the combine is a chance for guys to confirm or showcase that their raw athletic gifts are undeniable, and the chance to interview in many ways at times can be their icing on the cake of cementing themselves on boards across the league either higher, lower or even on finally.
-
Aidan Hutchinson
, hate wasting time on guys that I don't see falling to us at all, but folks Aidan Hutchinson is a FREAK. This dude's short shuttle and cone drill was right there with the best slot receivers that were in Indy for the combine. Yes, you read that right. Calvin Austin III WR out of Memphis is a 4.32 type speedy slot guy that is big play threat due to his speed, his shuttle was 4.07....Aidan's was 4.15. Garrett Wilson, one of the highest ranked WR put up a 4.36 shuttle. Of those guys that did the cone drill at the combine...Aidan's 6.73 was good enough for the 5th best of the entire group! Only CB Zyon McCollum (6.48), S Dax Hill (6.57), S Tycen Anderson (6.64), WR Calvin Austin III (6.65), WR Kevin Austin (6.71) beat his score...essentially folks offensive lineman that will be blocking him are taking on a guy that 6'7' 260lbs that moves like a 190lb slot receiver or DB....good luck.
- 40 yard times notes....so as some predicted this year was LOADED with speed. A trait that is clearly getting taught and refined more at a young age and built on in today's sports world than ever before.
Kalon Barnes CB
out of Baylor tops the board at 4.23, but I'm beyond ecstatic to see what two of my favorite CBs did.
Tariq Woolen out of Texas-San Antonio
ran a freaking 4.26....big deal right? Wrong, this cat stands 6'4' and is a solid 205lbs, that is a big frame with long arms (33 5/8) that can essentially run with ANYONE he lines up against; oh and folks he posted the highest vertical out of EVERYONE (Tindall LB tied him) at the combine with a 42 inch vertical. A borderline first round HIGH ceiling type guy, do not be shocked if Gute falls in love with this guy....after all after the combine he is the CB with the highest RAS at 10.00.
Zyon McCollum from Sam Houston State
is the other one that showed out with his 40 being one of the top displays. Jumping 39.5 inches , an eleven foot (tops of CBs) broad jump and a blazing 4.33 forty time I fear is going to keep him from a Day 3 steal lock to a guy that could flirt on some boards to creep into that end of Day 2 time frame. Raw, small school talent though so he may still be there after Day 2 ends but this 6'2' 199lbs corner clearly has the "unteachables", from all accounts is a grade A human being and folks may be surprised where he goes.
- I'm a Notre Dame fan...and I've struggled to not pick
Kevin Austin
on Day 3 in nearly every mock draft of mine....well folks I can now confirm that my biasness to the Irish isn't the reason he is a guy I like, his measurables are there and he just put up one of the best combines and from that RAS out of all WRs that took part. He was the 14th fastest WR, 5th best vertical at 39inches, 5th best broad jump at 11 feet (best was Watson's 11'4"), 2nd best cone drill only beat by Austin III, 2nd best short shuttle. Kevin has had very limited exposure to being a target at ND however, 2021 was the first year he was called on as the #1 WR target essentially and he answered the call continually putting up 888yards, 18.5 YPC and 7 TDS....he is a Junior so still young, explosive abilities and excelled and timing and catching deep balls along sideline. Keep an eye on Austin folks, he is that mid rounder/Day3 type WR that I think could surprise some folks. He has the third highest RAS score (9.89) out of all WRs (Isaiah Weston and Christian Watson are above him at 9.98)
- Speaking of
Christian Watson
, he is another smaller school WR that many of us have been banging the drum for quite a while now. He showed out at the combine, and I would be blown away if he is still on the board when the 2nd round closes. Mind you these results are on a 6'4' 208lb frame folks. He has 4.36 speed (only 8 WRs beat 4.4....he was faster than Olave and Wilson), he jumped 38.5 inches - good enough for 6th best and the dude won the broad jump at eleven feet four inches.
-
Boye Mafe edge out of Minnesota
, did solid all year long, exploded in the Senior Bowl and kept the momentum going at the combine. His RAS as a LB (which it defaulted to) is HIGH at 10.00...if you run him as a DE it is still HIGH at 9.88 which is crazy. The OLB type guys are mixed between DEs and LBs on the RAS site, but point is MAFE is a stud and has the tools many drool over. Let me put a side by side up against the FREAK Aidan who can drop down inside more naturally of course than Boye.
You must be logged in to see this image or video!
-While everyone knows I love Devin Lloyd and Nakobe Dean, I concur with the thoughts off ball LBs are not as pivotal in today's NFL as before, nor do I feel Gute holds them in high regard of need. With that in mind a 3rd/4th round type LB is what I'm trying to feel out and pick my favorites.
Troy Anderson out of Montana State (6'3" 243lbs)
could be the one with the highest ceiling and the rawest floor. This cat probably finally got on some folks radar with stellar numbers and to be fair I had him pegged as a top 150 level player without blinking but now with a few answers on measurables, this cat I could see creep into a top 100 pick even. This joker ran a stinking 4.42 forty (best), jumped 36 inches and his broad jump of 10'8" was 5th best. All the more blessing is he did all this weighing in over 240 at 243, as it seems smaller (near 220lbers) lbs are the ones putting up the fast and catchy numbers. Example of this is Harris out of Alabama ran a 4.44 but was nearly 20 pounds lighter, Tindall a 4.47 was 13 lbs lighter. Devin Lloyd (6'3" 237lbs) and concensus best or 2nd best ILB in the draft ran a 4.66, jumped 35 inches and broad jump of 10'6" for comparison. Anderson's RAS is 9.98.
- Couple other LBs that showed out to keep eye out for realistically after first round and at our picks are
Leo Chenal out of Wisconsin
(RAS of 9.99),
Chad Muma of Wyoming
(RAS 9.78),
Quay Walker of Georgia
(RAS 9.66),
Brian Asamoah of Oklahoma
(RAS 8.42) and a darkhorse favorite of mine I'm mixed on who did well was
D'Marco Jackson out of Appalachian State
- Defensive Tackles went about as predicted IMO. Jordan Davis showed out and illustrated why some like myself believe he is the #1 and not his counter part Devonte Wyatt...however I understand some question Davis's motor more than Wyatt. The guy who really showcased is a guy I've mocked to us in the middle rounds a couple times is
Thomas Booker from Stanford.
He was one of only 5 DL to put up sub 5.0 forties, nearly hit 10 feet in his broad jump and tied with the best 3 cone drill with Travis Jones (Connecticut) at 7.33 - which is "light years" faster than the next time which was 7.85. Booker also put up the best short shuttle time. Now this isn't a NT type body build like perhaps Davis (making his numbers MORE impressive)...but Booker made noise this combine IMO essentially locking down the concept or idea that he is a top 10 if not higher type prospect at his position than many felt before. His RAS is 9.81 and third best in his position group.
- The EDGE/light DEs group is massive and plentiful with guys...but a few mid rounder type guys that I have liked that showed up well were
Jeffrey Gunter out of Coastal Carolina
who put up figures good enough to have the 7th best RAS score (9.4) of all listed DEs.
Sam Williams out of Mississippi
also excelled and is two spots better at 5th RAS wise now (9.54) as well. Many will point to
Amare Barno
showing out against his DE competition, but folks this is a sub 250lb, and no doubt is going to be a stand up edge type guy purely at the next level. So to compare him let's run him as a LB, if you do that he shines even more and is a 9.96 RAS level dude...
- Few names that disappointed me this combine were Kingsley Enagbare EDGE, George Karlaftis EDGE (still a 8.71 RAS), Garrett Wilson WR, Romeo Doubs WR (because he didn't do on field drills...will wait for Wolfpack workout day to see if he does).
Will be very interested to see as college days happen and we get more measurables from certain folks who will continue to cement their "position" and who we may see raise flags or increase their stock.