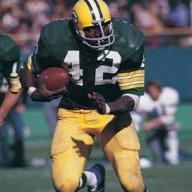 Joined

Jan 21, 2017
Messages

11,342
Reaction score

2,279
"You are what your record says you are."
One of football's favorite maxims.
If this is meant to mean that your record is what it is, in a literal sense, then this phrase is so obvious that it borders upon being meaningless.
If this is meant to say that your record is always an accurate reflection of what type of team you are, then it's one of the biggest lies in the sport.
I would suggest a more accurate platitude: "If you want to win it all, you have to be good, and you have to be lucky." When it comes to performance in the NFL, skill and performance are major factors, and luck is another.
So how do we try to account for luck? As it turns out, there are certain measures of a team that can help us understand if they were particularly lucky or unlucky in a given season. The ones I believe to be most informative are:
Seven Point Game Record: This refers to how a team performs, record wise, in games decided by 7 or fewer points. Certainly there can be a skill to winning close games, but generally speaking, league wide, really good or really bad results in this metric tend to regress towards the mean.
Injury Luck: Some players are particular prone to get injured, and some teams seem to collect more than your average number of these players. So this isn't completely random. But certainly having a really healthy or a really unhealthy season has more to do with luck than skill.
Fumble Statistics: Some consider TO margin in general to be a random statistic, but I don't think that's quite accurate. Avoiding interceptions and fumbles is often controlled by the skill and performance of the player and the team. Similarly creating the environment where takeaways are likely is often controlled by the team. But what happens once a fumble occurs is pretty much determined by luck. So once the ball was on the turf, was the team lucky or unlucky in terms of recovery? This may seem minor, but turnovers are so impactful that this can account for a game or two all on its own.
Pythagorean Differential: Pythagorean Win Expectation is a metric that uses point differential to determine how many wins would be most likely for a given team. For example, a team with a dead even scoring differential (say that they scored and gave up exactly 275 points) could have 10+ wins or 10+ losses in any given year, but over time, those teams are going to end up at 8-8 on average. So how did the team actually perform in relationship to the PWE? Did they overachieve or underperform?
**Disclaimer**
I am not making the case in this thread that NFL outcomes are random or that these measures prove beyond doubt what will happen in 2020.
Factors within the team's control (personnel, coaching, etc.) are still easily the biggest and most influential when it comes to determining a team's record.
All I am saying is that certain metrics are prone to regress towards the mean and can help us make educated guesses about what will happen to a team's record in the upcoming season, while still heavily considering things that are
not
random, like personnel and coaching.