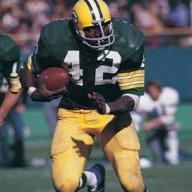 Joined

Jan 21, 2017
Messages

10,625
Reaction score

1,581
Over in the Whitney Mercilus thread,
@rmontro
jokingly posted "Dantés for GM" because I happened to be the first person to post a thread about Mercilus being a trade/cut candidate.
We all know that I am laughably unqualified to be the assistant to the GM's assistant, and there is a lot more to the job than just making high draft picks. But that said, his comment caused me to look back and see who I would have taken high in the draft if I had been at the helm. The results are a mixed bag.
To the best of my recollection, this is what I would have done over the last 5 years (sticking at the original picks-- not moving up or down the board).
2021, Pick #29:
Asante Samuel Jr., CB, Chargers (went #47)
2021, Pick #62:
Creed Humphrey, OC, Chiefs (#63)
2020, Pick #30:
Michael Pittman Jr, WR, Colts (#34)
2020, Pick #62:
Josh Jones, OT, Houston (#72)
2019, Pick #12:
Rashan Gary, ED, Packers (#12)*
2019, Pick #21:
Andre Dillard, OT, Eagles (#22)
2019, Pick #44:
A.J. Brown, WR, Titans (#51)
2018, Pick #14:
Derwin James, S, Chargers (#17)
2018, Pick #45:
Josh Jackson, CB, Packers (#45)
2017, Pick #29:
T.J. Watt, ED, Steelers (#30)
2017, Pick #61:
Alvin Kamara, RB, Saints (#67)**
*This is the pick that I'm least confident in of any in this exercise. Everyone I loved at #12 was gone. I did really like Gary's profile, and no one else in the range after the pick was high on my list.
**People might be skeptical about this, but I really liked Kamara; I recall going into day 2 hearing the rumor that Packers might take a RB at #33 (where they took King) and posting on here that I hoped it was Kamara.