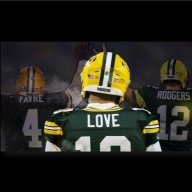 Joined

May 2, 2012
Messages

9,152
Reaction score

2,164
Those pushing Watkins off the team are cracking me up. I've broken it down before but Watkins is still VERY productive so long as he is on the field, it's never been about his inability when out there only about his ability to be out there. IF healthy he is by far our best WR on the outside from a past/proven stance. Lazard would be second because of being Mr. Consistent and relationship with Rodgers over time is there.

Whatever back to the OP question I'll play:

QB: (A+) Clean cut clear here. Rodgers alone makes this position group an A, top it off with a gifted young prospect behind him and a third option which has shown promise too.

RB: (A+) In many ways I like this position group more than any other on offense, because of the depth there. Jones and Dillon are elite level backs in VERY different ways, top off with Taylor showing chops last year and Hill looking special before his injury will be back too. Tyler Goodson UDFA addition is a darkhorse I like to minimum grab a PS spot. This position is incredibly deep and special IMO.

TE: (B-) I hold this group higher than most, but then again I don't look to my TE group to having to having to have a Travis Kelce type weapon to be solid. Lewis does parts of the inline tight end job still better than anyone in the league, Deguara in his niche cog in this offense finally starting showing up end of last year...Davis and Dafney both have progressed and if a blossoming is going to occur it will be this year for them. The reason this group nudges up into B range for me is Tonyan and from all rumors he is progressing VERY well in recovery. This group easily could be reflected upon at seasons end as a C- or an A-....and it all depends on just what Tonyan will be honestly.

WR: (C-) Right now grade. Gotta keep that in mind. Sammy Watkins is a sly and savvy pick up at the price for a guy that if he stays healthy is quite productive still in the league. Lazard is ascending, Amari finally very late in the year started looking comfortable and Cobb proved still quite capable. Toss in a very promising high ceiling Watson, a diverse plays FAST Doubs and a sneaky Toure late...this group is headed in the right direction, but still we have to be honest with who and what they've proven right now and that is two guys that are good when they stay healthy (Watkins and Cobb) another that has always been solid when called on but has never been called on like a true #1 or #2 (Lazard) and then a collection of oober athletic and productive guys in college that have done nothing in the pros (Watson, Doubs and Toure) with wildcards never making it clear they have a spot (Winfree and Malik Taylor).

OL: (B+...A) Two part grade solely because of the Jenkins injury. Runyan, Newman and Yosh were all put on notice with this draft taking Rhyan, Tom and Walker were brought in - I potentially foresaw starting potential in all three, with Walker the least likely, but I like his chances at RT if given the opportunity. Either way some were saying 2022 was Cole Van Lanen's year to make the roster....I don't see it happening honestly as those three draft picks are clear roster makers IMO. I wouldn't be shocked if Rhyan and Tom both don't break the starting line up out the gate. Once Jenkins is back I could easily see a world where we put him at Right Tackle and have him and Bakh on the outside with the luxury of Runyan/Newman/Rhyan/Tom on the inside for the guard spots.

DL: (A-) Best DL room both from a floor perspective and ceiling perspective we have had in a long time. Three proven NFL starters in Clark, Reed and Lowry....toss in a second year athletic big guy in Slaton, a drafted BEAST in Wyatt plus you got second year Heflin and Ford (7th rounder) but also a couple UDFAs in Pututau and a guy not to sleep on in Akial Byers out of Missouri.

LB: (A-) Few of us said one of the quiet but best ways to upgrade this defense left was to make Barnes not HAVE TO BE (could still earn it) the #2 ILB alongside Campbell...well enter Quay Walker. We also have two top flight OLBs in Smith and Gary....but to be fair OLB is the only reason this isn't a straight A as we just don't have that clear blue #3 OLB. Will Garvin keep progressing? Does Enagabare make some of us look like prophets with how good he will be?

DBs: (A) Honestly outside of safety depth...this group is MONEY.