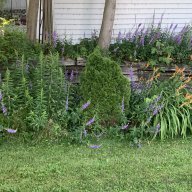 Moderator
Staff member
Moderator
Joined

Jan 19, 2013
Messages

4,021
Reaction score

320
Pre-Draft notes on goals, strategic direction and draft needs:

Direction - Looking to adequately cover position groups where mass attrition is possible due to expiring contracts after 21 season. Develop a more dynamic, aggressive and physically imposing middle of the defense. Begin working in the direction of a younger and cheaper roster to help alleviate 22 cap problem.

Goals - I don't believe in drafting to fix current season needs. I'm looking at 2022 and beyond for this draft class to make their most significant impacts. I'm looking at getting 3 picks in the top 75 and then at least 5 more between picks 110-160.

Needs: I want to add 2 cornerbacks, 2 wide receivers (one being a motion/slot guy) a swing tackle, punt returner, and a defensive lineman. Looking for versatile athletes with a hot motor and good football IQ.

I used the Draft Network simulator.

Draft:

Traded out of the first round with both Zaven Collins and Greg Newsome gone much earlier. Traded back to Jets pick 34 and also received 4-107 pick. Didn't like my choices there, Denver called wanting Baron Browning. Traded back to pick 40 and received pick 5-152 and a 5th round pick in 2022.

Round 2 - Pick 40 - Jayson Oweh - Edge - Penn State
Infuses youth at a position that also may make it possible to free up cap space for 2022. Garvin's status is unknown.

Trade picks 62 and 92 to the Eagles for picks 70,84 and 189.

Round 3 - Pick 70 - Milton Williams - DL - Louisiana Tech

Big body with upside with very good reviews from scouts to provide needed help for Kenny Clark.

Round 3 - Pick 84 - Paulson Adebo - CB - Stanford

Another talented defender at a position of need.

Round 4 - Pick 107 - Walker Little - OT - Stanford

Here's my swing tackle. Checking the boxes.

Round 4 - Pick 135 - Dazz Newsome - WR - North Carolina

I'm a little uncertain about this pick but he may work as a motion/slot guy.

Round 4 - Pick 142 - Dayo Odeyingbo - Edge/DL - Vanderbilt

Can play up or down. Versatile defender who could become similar in functionality to Preston Smith.

Round 5 - Pick 152 - Keith Taylor - CB - Washington

Another CB. Came down to Taylor or Graham from Oregon. Taylor was ranked higher.

Round 5 - Pick 173 - Josh Imatorbehbe - WR - Illinois

Admittedly, I was a little seduced by his athleticism and size combo. Could be a boom or bust pick as I'm not sure his intangibles are the best.

Round 5 - Pick 178 - Darrick Forrest - S - Cincinnati

Hard nosed productive player with good ball skills for the middle of the defense.

Round 5 - Pick 189 - Jermar Jefferson - RB - Oregon State

Will compete for a roster spot at a position that needs more competition.

Round 6 - Pick 214 - Demetric Felton - WR/RB

Hopefully can get some 1st year utility out of this guy on plays in space and outside runs.

Round 6 - Pick 220 - Avery Williams - CB - Boise State

Could make the roster as a backup nickel and return kicks and punts.

Round 7 - Pick 256 - Cole Van Lanen - OL - Wisconsin

Thought about ILB's here but I really want Van Lanen. I think he's got a future as a backup at the very least in this league. It's possible they can get Van Lanen in pretty easy asa UDFA. I think he's from the Green Bay Area and could get home-cooking and have his old bedroom.

welcome your critiques and thoughts.
Last edited: