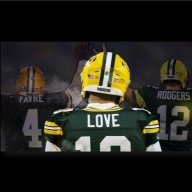 Joined

May 2, 2012
Messages

11,616
Reaction score

3,476
I know I've shared, attempted to each week but probably failed, the best and worsts before. For a full length discussion and descriptions Packerswire does a good job over at:
https://packerswire.usatoday.com/lists/packers-pff-grades-best-worst-players-from-week-5-at-bengals/
Offensively
As for the offense when we have both RBs, Davante and Rodgers being four of our best 5 - I'm going to say good things will occur.
1. WR Davante Adams, 93.0
2. TE Marcedes Lewis, 89.4
3. QB Aaron Rodgers, 79.5
4. RB A.J. Dillon, 72.2
5. RB Aaron Jones, 70.8
The offensive unit's worst weren't surprising for me as I finally watched the game (unable to watch live).
1. TE Robert Tonyan, 60.4
2. RT Billy Turner, 59.2
3. C Lucas Patrick, 50.6
4. WR Allen Lazard, 48.7
5. WR Equanimeous St. Brown, 43.5
Lazard is the surprise one, solely because his blocking was not up to the norm we've come to expect from him. You cannot be perfect all season, so this to me is an anomaly IMO. Patrick especially, but Newman also struggled to get any kind of push in the run game.
Defensively
1. DL Kenny Clark, 80.3
2. LB De'Vondre Campbell, 79.3
3. CB Kevin King, 76.2
4. OLB Rashan Gary, 71.0
5. OLB Jonathan Garvin, 69.7
I know grade wise it may not work out to be, but this was IMO one of King's best games while a Packer - primarily due to circumstances of how much we needed him to step up due to Jaire being out. Clark and Keke (shocked he wasn't higher than 70 grade wise personally) were disruptive above normal IMO. Solid to see Garvin doing quite well in an expanded role - he pressured 3 times out of the 8 pass rushing snaps he saw.
Worst:
1. CB Isaac Yiadom, 51.3
2. OLB LaDarius Hamilton, 44.3
3. DL TJ Slaton, 39.8
4. S Darnell Savage, 37.9
5. DL Tyler Lancaster, 30.1
Slaton really got pushed around in the snaps he was out there, but is a great example of fan base's ignorance in discussing as they see his shared sack as a redeeming act for the day. Yiadom, I was a mildly surprised to see as one of bottom 5, I knew he had struggles but there were times he looked like he belonged (guess the 51.3 makes sense). Savage nearly made up for a critical mistake on the long touchdown before the half, but sadly did not.
Last edited: