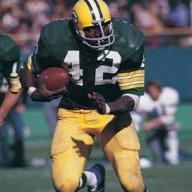 Joined

Jan 21, 2017
Messages

11,549
Reaction score

2,467
Thinking about the margin of victory in the Eagles game yesterday, I started to wonder how the Packers tend to perform against the average performance of their opponents. So I decided to look at Green Bay's opponents' average scoring margins and compare them to the margin in the specific contest against the Packers. This perspective helps erase concerns about strength of schedule.
So below are their opponents so far. The first number is the average scoring margin for that team. The second number is the scoring margin in the Packers' contest. The last number is how much the Packers under/over performed the typical margin of the opponent. So if on the season the opponent has a negative average scoring differential, you subtract that from the Packers' margin. If they have a positive, you add it. Here's what we've got so far:
Minnesota Vikings: Average -0.8; Packers +9;

+8.2

Detroit Lions: Average -6; Packers +21;

+15

New Orleans Saints: Average +8.8; Packers +7;

+15.8

Atlanta Falcons: Average +0.8; Packers +14;

+14.8

Tampa Bay Bucs: Average +5.3; Packers -28;

-22.7

Houston Texans: Average -2.9; Packers +15;

+12.1

Minnesota Vikings: Average -0.8; Packers -6;

-6.8

San Francisco: Average +0.6; Packers +17;

+16.4

Jacksonville Jaguars: Average -8.4; Packers +4;

-4.4

Indianapolis Colts: Average +4.6; Packers -3;

+1.6

Chicago Bears: Average -3.2; Packers +16;

+12.8

Philadelphia Eagles: Average -4.5; Packers +14;

+9.5
Total:
On the season, the Packers are
+72.3
against their opponents' average scoring margin. That is almost exactly
+6.0
points per game. In plain terms, this means that on average the Packers have been 6 points better than what their opponents have managed in their other games.
The Packers have problems, and some of those problems could prove fatal in the playoffs. But these data, which essentially bake in a measure against strength of schedule, demonstrate that they are playing way above an average level when compared to the rest of the league.