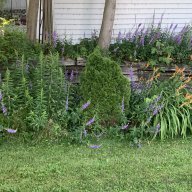 Moderator
Staff member
Moderator
Joined

Jan 19, 2013
Messages

5,217
Reaction score

1,008
Ray Nitschke - My all time Favorite.

It is well known that Nitschke was truly a great athlete though many of us probably think of him as a brutally violent middle linebacker.

I read recently that Willie Wood said that he and Nitschke would sometimes have passing contests after practice. Wood played QB for USC in college and could throw the football 75 yards. Wood stated that he saw Nitschke once throw for 90 yards. Not bad for a middle LB eh?

One of Nitschke's teammates ( I think it was Jerry Kramer?) said that Nitschke was also was the best golfer on the team and said that he saw him shoot 63 at Oneida Cc. Not bad for a middle LB eh?

I had the good fortune to see the Packers basketball team play one night. Guess who was the best player on the floor....... Raymond Nitschke. He spent the whole night dropping 25-35 foot bombs..... Nothing but net. This 11 year old kid was floored. How could a bald, no teeth middle linebacker do that???? One of my friends had told me that Nitschke could throw a football farther than Bart Starr which I had found blasphemous. I re-thought my stance.