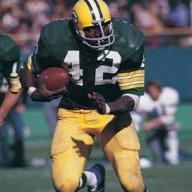 Joined

Jan 21, 2017
Messages

11,102
Reaction score

2,024
We're well into the season now, so looking at the standings, which teams do you think are better than their record, and which teams do you think are worse? So "overrated" in this context means which teams aren't as good as their record, and "underrated" in this context means which teams are better than their record.
Mine...
Overrated:

-Steelers:
The Steelers are 5-3-1, which is good for a .611 win %, but they have a negative point differential and clearly look like an overall losing team to me. Three of their wins are by 5, 3, and 2 points respectively. Their offense is completely inept, and while the defense is solid, it's not nearly good enough to make up the deficiency.
-Saints:
I never bought into the Saints this season, but was surprised to see them get out to a 5-2 start. However, I think you see things start to unravel in recent weeks, and I don't think it's just the QB. Payton has done an amazing job with this group, but their roster just doesn't have the talent to hang with the top of the conference.
-Chargers:
The Chargers are perennially media favorites. I guess journalist types love the hipster feeling of supporting a pathetic franchise that doesn't have fans. But the homeless Chargers shouldn't have a winning record. They have a negative point differential; 4 of their 5 wins are one score.

Underrated:



-Vikings:

I don't enjoy saying this, but the Vikings are better than a 4-5 record. All five losses have come by a total of 18 points, with three coming in overtime. Furthermore, they just have too many really good players to be sub .500. I think their luck will bounce back the other way and they will finish at least in the wildcard discussion.
-Eagles:
The Eagles are +26 in point differential and yet -2 in the win column. Lately, they've been finding their stride under a new coach. Hurts is limited, but the analysis of him isn't balanced-- too much is made of his deficiencies and not enough of his unique ability (38 1D's and 5 TD's on the ground so far).
-Colts:
The Colts are .500 and +38 in scoring; the Packers are .800 and +36 in scoring. If you look at their season, Indy started rocky with three straight losses, and since that time they're 5-2, with both losses coming in OT. They haven't had the best schedule, but they're better than a .500 team.
Honorable Mention:
-Panthers:

The Panthers as constituted a week ago were just about where they deserved to be. If Cam proves to provide better QB play, they could be way better.
And the Packers?
Some would argue they're overrated at 8-2 with only a +36 differential, but I'd disagree. For starters, week one factors -35 into that equation and was clearly a fluke (as week one results tend to be). The only other loss (-6) was the Jordan Love game, which clearly isn't reflective of who the Packers are. If you set aside those two results as not really representative, you're talking about a differential of +77. Obviously if you eliminated the worst losses for all teams, everyone would be better. But the effect with the Packers is much more dramatic.