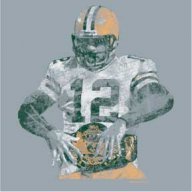 Joined

Sep 16, 2016
Messages

6,465
Reaction score

2,104
Long post alert.

Before we get cranked up with the 2021 season, I finally had the stomach to re-watch the NFCCG vs Tampa.

I just cannot get over how many mistakes and uncharacteristic events went into it.

You've got:
- The King blunder
- Two Jones fumbles
- A dropped TD pass by Davante and on the same drive lost where he was in the end zone and didn't get his feet down for another TD
- Rodgers INT
- Redmond drops an INT
- St. Brown drops the 2 point conversion
- MLF choosing to kick the FG instead of going for it

Along with that, there were awful protection issues throughout most of the game. Big time issues in the secondary with Brady picking on Sullivan repeatedly on whomever he was covering, and the obvious King blunders that were game changing.

Then there's the question of why wasn't Dillon utilized more? He abused their front on the few carries he got.

I honestly think the biggest killers in this game were not being able to cash on the 3rd possession of the game where Davante screwed two plays up, then the Rodgers INT, then the King blunder, then the Jones blunder right out of the half where it gifted the Bucs another TD.

Think about it...that was 18 points on plays that were completely within our control. And 14 points on consecutive possessions with the King/Jones debacle.

And still only lost the game by 5 points.

Now...

Looking forward, I'm hoping a lot of these issues have been remedied.

The issues with the secondary:
Hopefully at least one of Stokes/SJC will be able to take over the #2 CB slot, thus sliding others down. And if nothing else, surely MLF has an understanding with Barry on how he wants to play situational defense. This is of course the first DC that he's been able to hire since he's been with the Packers. I can promise situational stuff like that was discussed. That should be a net positive by default that we won't get utter stupidity at the end of the half like we did in this game.

The issues with protection:
Hopefully Bakhtiari comes back at close to 100% of what he was before. Losing #69 was such a huge blow and made such a huge difference in multiple drives of that game that stalled out because Rodgers got blindsided. He got pressure from many angles, especially lots of issues on the right side with Wagner and Lucas friggin Patrick, but it's going to be such a luxury to have the island LT that doesn't need help protecting AR's blindside.

The slight issues with the running game:
I'm not sure the Packers will make the mistake again of not utilizing Dillon more in cold temperatures. He's a battering ram that no one wants to deal with in those situations. Then you've got the dynamic abilities of Jones and Hill. I think our running backs are even more lethal this year than last. Williams was a nice player, but the Packers are now better.

The issues with the over reliance on Davante:
I honestly think the receiver room has turned into, dare I say a strength for the Packers. IF Amari Rodgers can contribute in a reasonable way this season, and Cobb stays healthy, I think it could be special. Because you already know what you're going to get from Davante, and if what I'm hearing about MVS is true, he's really rounded the corner and could be ready to explode. And then Lazard of course just provides steadiness all throughout the playbook.

I think this team has the opportunity to be great this season. The pieces are in place for the Packers to get it done. We've got flaws, no doubt. Just like all teams. But many of the issues that plagued the Packers last year have been addressed. We'll see how it all comes to fruition.