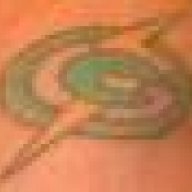 Moderator
Staff member
Moderator
Joined

Mar 7, 2005
Messages

24,751
Reaction score

3,615
Location
Packers notes: Walker yields five draft picks
JASON WILDE
608-252-6176
April 30, 2006

GREEN BAY - Daryn Colledge. Will Blackmon. Ingle Martin. Johnny Jolly. Tyrone Culver.

They could turn out to be the five- part answer to a nebulous Green Bay Packers' trivia question. Or maybe one or two of them will turn out to be impact players who'll make the whole thing worthwhile.

For now, though, all they are is what the Packers have to show for trading disgruntled Pro Bowl wide receiver Javon Walker to Denver and the 139th overall pick to Atlanta during the two- day NFL draft.

"I think it would be unfair to compare these kids to Javon Walker. I'm not saying they are," Packers general manager Ted Thompson said Sunday after the draft ended. "I'm just saying that from a value standpoint, we felt it was a fair trade."

It all started when Thompson ended the Walker saga by dealing him to the Broncos for a second-round pick (37th overall). After consummating that trade, Thompson packaged the 37th pick with the 139th pick (the Packers' own fifth- round pick) and got the 47th, 93rd and 148th picks from Atlanta.

Thompson then sent the 93rd pick to St. Louis Saturday night for the 109th and 183rd picks. Thompson then started Sunday's proceedings by sending the 109th pick to Philadelphia for the 115th and 185th picks.

"I felt like we got fair value in the grand scheme of things, to get an early pick for Javon Walker given the set of circumstances we were under," Thompson said. "Quite frankly, I don't know what happened to that (37th) pick. I know that we traded it and then we drafted some guys and then we traded some other picks."

Indeed, Thompson ended up with the 47th (Colledge, an offensive lineman from Boise State); 115th (Blackmon, a cornerback/receiver from Boston College), 148th (Martin, a quarterback from Furman), 183rd (Jolly, a defensive tackle from Texas A&M); and 185th (Culver, a safety from Fresno State) picks for Walker.