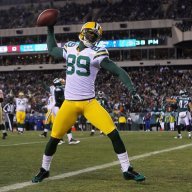 Joined

Sep 30, 2013
Messages

4,162
Reaction score

314
I know this board's going to go crazy this week full of psychos raving about blowing the team up and making all kinds of extreme moves, I'm not going to go for that and I don't for one minute even after this loss think that this team is unsalvageable, I really think we will get the monster under control. There'll be plenty other threads going on around here going off on Capers so please keep that talk out of this thread. But I do think Tom Clements and Edgar Bennet are really struggling with this play calling stuff and really are struggling to get these guys going in the right direction. There's been some things, some of them little but some more major that have really stood out to me this year that to me have been bad signs of this :

1. Play clock always ticking down super far before Rodgers snaps it -- I swear in every game every year I've seen before this, I don't ever remember Rodgers having to try and hurry up to get that snap off or have to unnecessarily burn timeouts like he's had to do at exorbitant rates this year. There is clearly a dysfunction in the huddle with players understanding their assignments and what the play is, and I don't recall this ever being a problem when Mike McCarthy ran things.

2. I saw wide receivers today look like they were having some confusion about routes too. And these are vets we're talking about, or at least people who've been here long enough that they should know where they're going on a play, and what's going on.

3. Protection assignment issues -- no doubt Bahktiari and Lindsley struggled today and have to get better or be replaced, but really seems like there's some confusion there too over who should pick up who. I have not seen that go on at that rate since Mike McCarthy was running things here, and this year this whole thing just seems way off.


I really think those of you who kept complaining about Mike McCarthy's play calling last year owe him a big time apology. You clamored for him to lose the play calling, he did that, and now we're paying for it.

MM, please if you can here us, please intervene and take back the offensive management.