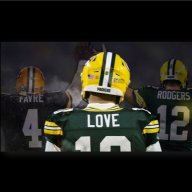 Joined

May 2, 2012
Messages

12,207
Reaction score

3,853
The 49ers game saw us enter the game with a starting offensive line that across all FIVE spots had 62 NFL starts in regular season games; 57 of those were Billy Turner.
Runyon had 1 previous and Newman/Myers both chipped in two each - Nijman had zero.
Folks I'm sorry, but the way that line held together and the playcalling for quick throws helped mightedly; however this OL group, Stenavich, Gute and draft scouts made this Packer fan so incredibly proud.
Essentially four "rookies" started against a very strong front and survived - Nijman is NOT a LT that can start regularly (he actually graded out terribly), but it was clear he was NOT going to lose plays because of lack of effort.
Such an incredible moment to watch an UDFA find, 4th rounder, 6th rounder and 2nd rounder come through on one of the biggest stages!
You must be logged in to see this image or video!