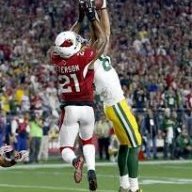 Joined

Apr 22, 2015
Messages

260
Reaction score

14
Everyone is talking about a lot of things regarding the Packer offense. But one things keeps bugging me. The hurry up offense.

It's one thing to try to tire out a defense and create mismatches. But there is another, less desirable consequence, that occurs when it doesn't work as planned. Three and out's eats up less time and gives the defense less time to rest. The way our offense has been playing lately, that's putting a lot of pressure on the defense.

Also, the first two games were road games. Communicating the play to all 11 players is much harder with a stadium at max volume. The odds are 1 or 2 guys are going to miss the call and that's enough to screw up the play. It seems to me it would make more sense to huddle up and use less hurry up. Set the tone, get in sync then expand from there as situations permit. It lessens the odds of introducing mistakes due ot miscommunications and over taxing players.

Thoughts?