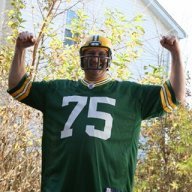 Joined

Jul 3, 2014
Messages

3,416
Reaction score

1,429
Location
Congrats to
@Budman
for hitting all 6 games' winners correctly!! No direct hits, but a few got exact team scores correct (
@Albert Park
&
@Mondio
).
All are welcome to play
!!
If you guess the correct individual team score, regardless of correct winner: 5 points each
Each game you pick the correct winner of: 15 points
If you pick correct winner on at least half the games scheduled for the week: 50 points
If you pick correctly on at least 75%
(Division Round)
of the games: 75 points
If you nail correct winner on
all
games: 150 points
** Only applies towards Divisional Round Games
If you guess both the correct winner and score of any game: 125 bonus points tacked on for each correct score.
** ALL submissions must be entered
prior to the first game of the weekend
,
no
late entries.
Wild Card Week Results:
---
Overall Score:
@Budman
--150-------------------
150
@Mondio
--85-----------------------85
@Albert Park
--80-------------------80
@Pokerbrat2000
--75---------------75
@Guacamole
--75-------------------75
@Pkrjones
--75----------------------75
@Voyageur
--75---------------------75
@Canadian Cheddar
--75-----------75
@GBkrzygrl
--50--------------------50
@OldSchool101
--50----------------50
Divisonal Round Weekend - 4 Games
Jacksonville @ Kansas City
NY Giants @ Philadelphia
Cincinnati @ Buffalo
Dallas @ San Fran 49'ers
Last edited: