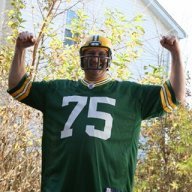 Joined

Jul 3, 2014
Messages

3,361
Reaction score

1,367
Location
It's really important. Maybe this years draft was an exception. Detroit felt like it needed a RB1 and there really wasn't a big selection in that top #75 area (an area that you can generally get a Starter capable RB)


I still don't understand why teams like the Lions don't use a slight trade back though. Maybe they truly see themselves as a few weapons away from being great idk. My more general point with them is they should've fixed their Defense first. It's just my opinion, but they could've at least traded back into that later teens /early 20's area and recouped a 2nd Rounder. If Gibbs is there take him. Then use that 2nd Round collateral to help fix the horrendous Detroit Run Defense. You get Gibbs at #20 overall area and then use that acquired 2nd Rounder and package both 2nds in a hard move up to get Brian Bresee etc. 60%. What's more perplexing for me than drafting at RB isnr as much about Gibbs as it it is this. Drafting Gibbs doesn't do you nearly as much good if it means your opponent gashes you right back for 5+ per carry all year.
If the Lions NEEDED a RB1 so badly why did they trade out of #5? Should've taken Bijan & used #45 on LaPorta. smh, a lot of questionable Lions moves, IMHO. I agree with above that they should've re-signed Jamaal Williams to pair with Montgomery & used their draft capital elsewhere.