Enjoy These Last Three Games
By Tromadz

I know I criticize #4 a lot. I know some people think I hate Brett Favre, which absolutely pisses me off more than any of you could possibly know. I love Favre and what he has done for Green Bay, pro football, and those 3 hours of excitement he provides me every Sunday. But as the season comes to a close with only 3 games left, we approach that time where a common thought pops up? Is this Brett's last year?
This could very well be his last year. Forget the "he should come back" and "he should retire" stuff. Forget the "he's washed up" and "he has plenty left" stuff. Forget the "He needs to decide soon" and "he deserves all time he wants" talk. Trust me; there will be time for that later.
Just enjoy the last 3 games. Enjoy what the guy tried to bring us every game for the last 14 years. All he ever did was try and help the Packers win football games. For a lot of people over the years, Favre went from a football player to a member of their extended family.
We laughed at his sideline antics and banter with refs ("Take two weeks off, then quit"). We laughed at his goofball faces on the sideline. And we still laugh today. We laugh when he picks up Donald Driver and walks around with him like a kid.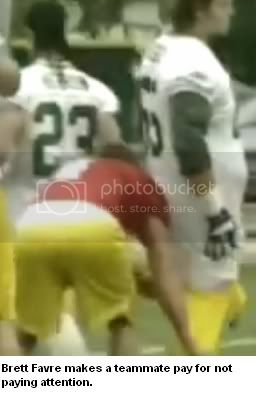 There was also sadness. On December 21, 2003, Brett Favre's father, Irvin, died of a heart attack. Brett was supposed to play the next night on Monday Night Football. Many thought he wouldn't and shouldn't play the game. Nobody would have blamed Favre if he didn't play. But Favre decided to honor his father the best way he knew how, by playing the game his father introduced to him as a baby.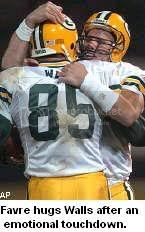 399 yards and 4 touchdowns later, the Packers won the emotional football game. Favre came through for his team, and his team came through for him. It was an emotional night for Favre, his family, his teammates, and millions of Packers fans who felt Favre's pain.
So enjoy Favre these last three games. The Favre chapter in the Green Bay history book is a very long one. 15 years worth of memories, and it could all be coming to an end shortly. So weither you think Favre is old, washed up, still has enough for years to come, or any other opinions on the man's future, enjoy these last three games and everything he has done for the Packers organization and everything he has done for us, the fans.