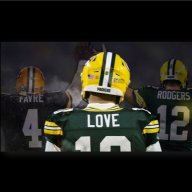 Joined

May 2, 2012
Messages

12,904
Reaction score

4,305
Often times I try to do mocks based more off of our tendencies, perceived holes and rumors I've heard from contacts (more so as we near draft)....however this mock applies zero outside noise, and purely is my approach to the draft as it fell (within reason...I ignore illogical drops of players should the simulator throw one).

So how do I differ than most and possibly Gute?

I'm a different type than Gute, while Gute appears to target only trades up in drafts (dude moves a lot) I am more of a trade back instead....with possibly Day 2 trade up if deemed worthy. I also love the bigguns and defensive side of the ball; give me more front 5 and/or OL in a draft over anything else - especially with current contract situations and depths this is intensified even more.

The one thing I believe me and Gute share is a mindset that skill position wise GB is not a desert of talent like many think...and like him I don't feel the pressure to have to pick two WRs before Day 1 is done (and more in Day 2 like some), nor is it worth the potential risk it would cause of ignoring much better prospects in the process. I mean we have Aaron FREAKING Rodgers, two STUD running backs, the exact same TE room we had the last two years (healthier once Tonyan back) and are returning all of our defensive starters (PLUS Jaire and Reed). I'll take ANY top 100 drafted rookie WR with Aaron as his QB OVER ANY other drafted at betting to have a solid year one....that said I do want a skilled WR1 type mentality WR....

So...let's run through my second to last mock I'll do (next predictive one will be final and will drop the 23rd-25th sometime).

Pick #22 - As we go on the clock I have every intention after seeing Karlaftis finally go to call up George Pickens after a small WR run and he being the only remaining "dog" from day 1 that will walk into the WR room and measure up to anyone. However, phone rings and it isn't a major move, nor a massive haul, but it is a trade back I tend to appreciate and like quite a lot. It is the Bills, offering #25, #168(5th) & #203(6th) for our #22 and #228(7th) - in essence quite fair picking up a 5th, bumping up a 7th into the 6th as well while losing three positions in the first. A similar value to what we gave up for Love in a similar trade move picks wise in 2020. Looking at the board, I was ready and willing to either pick Pickens if he lasts at #25, or double up on WRs on Day 2 and grab higher positional value at 25 and 28 (if I stay). I say yes and the trade happens.

First Round #25 - Jahan Dotson is who the Bills targeted and we see McDuffie fall to Arizona who goes CB (Green signing clearly made this possible) and Dallas goes Linderbaum shoring up their interior OL. So we add one of my top two WRs in the draft that I feel have the WR1 mentality and have proven it at the collegiate ranks to walk in with that swagger and deliver from day 1 (Olave is the other) and that is George Pickens. I've detailed him, Dantes has as well and others. Pickens made SEC corners look foolish as an 18 year old kid, has a passion for the game and an edge that he exhibits on blocking to or past the whistle even at times. I liken his in game passion like DK's...one which of course will need harnessing but is also what fuels his play. Aaron Rodgers no doubt will love this big, fast target that can get open in a number of ways.

First Round #28 - Daxton Hill S, Michigan. I personally want 2022 to be Savage's last year....he is a starter level safety in the NFL, but I just haven't seen him shift up into that higher ceiling many of us thought he had. Could 2022 prove me wrong? For sure, but a good GM recognizes both our starting safeties are not signed past 2022 and the need for a replacement is now. We have the luxury of a second first round pick and a surefire all purpose safety/slot is there for the taking. I love everything about Daxton Hill and believe he can do literally EVERYTHING one could describe for the responsibility of a safety at the NFL level. While Amos and Savage are both here I could see him playing in a lot of Dime packages as the second slot, or filling in as the team's slot at times for rests and such.

Second Round #53 - DeMarvin Leal iDL, Texas A&M. I am very very high on Leal, partly because the dude is barely now even old enough to drink and is a top 50 prospect. Reed and Lowry will be gone after 2022, we cannot possibly be in a position again where Clark is "all we have". Leal can provide snaps immediately if needed and more if someone goes down...this prospect is one of like 10 guys which I feel the ceiling if hit could be the best at their positions in the draft class when we all reflect upon it in 2025. An example of this elsewhere is Tariq Woolen (CB) or Kyle Philips (SLOT WRs). Back to Leal though, he is a DT with a RAS that dips below 8 (7.44) solely because the measurables of his vertical and he is a lighter framed DT that relies on foot speed, burst and angle/bend to wreck OL plans. You wanna see something crazy compare his ten yard split, short shuttle and cone drills with some of the top TEs in the league or draft....you will walk away IMPRESSED. While only three seasons at A&M, this cat progressed more and more and exploded on the stat columns in 2021 against the best competition out there. I am personally higher on him out of college than I was Kenny Clark (EASY, not predicted he will be better, saying I'm higher on him than I was Clark at his time in the draft prospect research).

Second Round #59 - Drake Jackson EDGE, USC....I've shared numerous times on Jackson and why I love him (high RAS, very young, ceiling not touched and progressed every year IMO). We need that #3/#4 OLB and Jackson is instantly that. Just look up comments by me including Drake and you can read all I've said over the months about him.

Third Round #92 - Alec Pierce WR, Cinci...I actually attempted to make a trade for him twice before him actually staying on the board till this pick. At #92 I am watching if WR route to go with are Pierce, Tolbert, Shakir, Philips or Doubs...I'm also watching TE Ruckert if he lasts. Ruckert didn't last and Tolbert was gone as was Philips however Pierce wasn't. Pierce is a prospect I hate mocking here because I see him a lot like Jordy Nelson...the year he went the opinions on him were VERY wide, not many trusted saw first round talent but many saw second, just as many saw third and some third and even fourth. That is Alec Pierce as well. For this mock we will roll with him, but #92 is the toughest pick for me to predict direction positionally as there are immensely more options to work with IMO in the prospect boards. In this mock we add a guy with insane burst and acceleration, can go up and get jump balls and shows the knack with refinement to win routes not just win jump balls or burn past. He is an excellent compliment in some ways to Pickens, but also a reserve plan of the future for WR1 as well...best world is they both excel and in three years we are talking about a dilemma of who to sign as that role into the future.

Fourth Round #132 - We continue to build the offense in a big way by protecting the most crucial aspect of our system Aaron Rodgers. Joshua Ezeudu out of North Carolina is a OL prospect I LOVE and yet haven't shared a ton on. He has versatile background starting all over the OL for UNC, but I see with his slightly shorter movement skills (still a 8.32 RAS) and experience inside - a starting Guard at the next level for the team that drafts him. He worst case immediately provides that first guard up most likely or moves Newman out of the starting rotation in year one....or watch out maybe RT as well.

Fourth Round #140 - Again we dip into the offensive side of the ball this time with one of my favorite TEs on that second/third shelf of prospects at the position. Charlie Kolar out of Iowa State just continued to put up amazing productions for the cyclones averaging over 600 yards and 6 TDs over the last three years he is an inline Y Tight End capable of blocking and adding a pop in the passing game more than some...he is the inverse of one my favorites Ruckert, who would be a better blocker but not quite the receiving threat Kolar is at first. By the end of the fourth round Gute has charged the offense with two WRs, a TE and a starting caliber OL in just 7 picks.

Fifth Round #168 - As I mentioned I love building the OL room more than nearly any and Matt Waletzko out of North Dakota is guy I love both his measurables but also his potential. He has 28 starts at Left Tackle for the run centered team out of North Dakota. With that his run blocking is where he excels, but his technique and skillset in pass protecting will be his greatest focus at the next level. His pad level rises at times at pass snaps, this is overcome at times with his length (36+ freaking arm length is insane!) and strength (28 reps) but at the next level there simply is going to be needed growth....if that happens Waletzko has written all over him a Left or Right starting tackle at the next level 100%. An excellent prospet at a time I'm 50/50 on him being there...some are hgih on him like me while others don't have him as more than a 7th round flyer.

Fifth Round #171 - Isaac Taylor-Stuart CB, out of USC is a cornerback that is risking being a Top 100 pick next year by coming out now...but has shown chops of a potential starter at the next level who is also willing to throw his helmet into the ballcarrier (just a form of speech, he isn't a head hunter but fairly solid tackler). He has exceptional, not elite but still, speed at 4.42, solid in every other measurable as well. While his knee injury at the end of 2019 which kept him/along with covid stealing much of 2020 from him, 2021 showed he was fully healed and back to his freshman abilities which were excellent out the gate.

Sixth Round #203 - Tanner Conner WR, out of Idaho State....breaking from my normal stance of not needing 3 WRs added to the room we have, Connor is too much of a gem in hiding to resist burning that picked up 6th in the Buffalo trade (upgrading our first 7th to). Tanner in every single way except speed has done more in the stat production columns than Christian Watson has at the FCS level (WITH WORSE QB PLAY)...I mean folks you're talking about a team that had three QBs in 2021 put up passing yards BUT ALL THREE barely put up 2,000 yards combined...and Conner was nearly 800 yards of that! While I said he is slower than Watson, he isn't slooow at running a 4.5 but folks he is 226lbs on a 6'3' frame that benched 19 reps!!! His vertical was just shy of 40 (geeeesh) and his broad was over ten and a half - he has explosion and can win jump balls. Route refinement is what he needs most but I LOVE him late on Day 3 too much to follow my own advice that 3 WRs is too much....if one is a late Day 3 flyer type I can live with it and I'm doing it.

Seventh Round #249 Kyron Johnson, LB out of Kansas....a guy I haven't bragged on before but he is right there with Spector and Rodriguez as my late Day 3 guys to target at off ball LB for GB if we don't go with one earlier. We have Campbell/Barnes duo and for now Summers and McDuffie will get a chance to grow this sophomore campaign of his...but a guy like Johnson is one which was a leader of the Kansas defense and an athletic profile that will boost ST and could instantly be a Burks type replacement with him leaving in FA. When I say athletic, I mean it...dude ran a 4.4 with a 1.5 ten yard split....put up a 39.5 inch vertical and a ten foot broad. His 3 cone was near elite level as well. Need less to say he may be a tick shorter at 6'0" than some would prefer but it doesn't hamper him. In 2021 he exhibited excellent rush packages for Kansas as well totaling 6.5 sacks...produced 4 fumbles and recovered two of them. A guy constantly around the ball even if not the one making the play and a special team addition for sure.

Seventh Round #258 Kingsley Jonathan, DE/EDGE hybrid out of Syracuse....a LIGHT down lineman that is FAST!!!! I discussed him last mock and love him late rounds...and am tired of typing so go there to read LOL.

Summary of picks:

25th - George Pickens, WR out of Georgia
28th - Daxton Hill, S/Slot out of Michigan
53rd - DeMarvin Leal, DL out of Texas A&M
59th - Drake Jackson, OLB out of USC
92nd - Alec Pierce, WR out of Cinci
132nd - Joshua Ezeudu, OL out of North Carolina
140th - Charlie Kolar, TE out of Iowa State
168th - Matt Waletzko, OT out of North Dakota
171st - Isaac Taylor-Stuart, CB out of USC
203rd - Tanner Conner, WR out of Idaho State
249th - Kyron Johnson, LB out of Kansas
258th - Kingsley Jonathan, DE/DL out of Syracuse

Honest critiques....

#1 - Risking not drafting Pickens at 22 could be a massive mistake...and waiting till 92 to pick up another some may see as a negative but to me if I get a WR earlier I really like I don't personally want to see Gute force a second picked till that 3rd rounder or later.

#2 - Kolar is arguably a round too early...some others may say more, I'm fully aware I am higher on him than many and while he didn't light up folks like Jelani Woods did in testing - all Kolar has done has been a massive part of the Cyclones offense every year he has been on campus and continued to grow as a blocker each year.

#3 - Waiting till the 7th for an off ball LB with Barnes and Summers not signed past 2022 isn't ideal but is what it is.

Honest postives....

#1 - We get a massive swing at a high profile WR with our first pick and the room as a whole got a LOT more pieces added, if he is what many suspect he will grow into a WR1 for Green Bay and hopefully for years to come.

#2 - The future of a starting safety position is decided with Hill joining the team.

#3 - Our trenches get much stronger with 2 OLs, 2 DE/DLs and an OLB added.