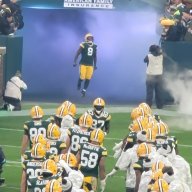 Opinions are like A-holes, we all have one.
Joined

Oct 30, 2012
Messages

27,734
Reaction score

5,289
Location
Thanks Pokerbrat. Extraordinarily interesting statistical analysis. I found it very enlightening though I'm not sure I'd consider it gospel truth.
Agreed on none of it being gospel truth. A lot of "draft success grading" is very unscientific and speculative. Imagine using a top 10 pick on a guy that gets injured or does something else to end up not ever playing football again. Suddenly, he is a "terrible" pick. Jordon Love is a "terrible" pick in some peoples eyes, because he has played very little and "had the Packers drafted 'this guy', they would have won a SB or 2". Some consider Micah Hyde a great pick for a 5th rounder. I would say for the Packers, he was just an ok pick. For the Bills though....he was an Awesome pick (by the Packers).
Given how good the Packers have been over the last 30 years, I would say the organization is doing something right. Whether that is drafting, hiring, signing of FA's, etc., I don't think there is one thing you can point to and say "this was their downfall".