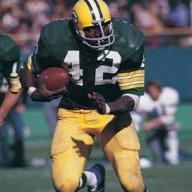 Joined

Jan 21, 2017
Messages

11,610
Reaction score

2,554
Through three years with Brian Gutekunst, the drafts have been nothing if not surprising.
Whether fans were happy or outraged at the picks, very few people anticipated that the team would select Jaire Alexander, Rashan Gary, Darnell Savage, or Jordan Love.
And yet, year after year, we talk ourselves into a small cluster of players as the only logical options for the Packers.
So this year, who are the guys that are largely off the fan base's radar who could potentially have their name called late Thursday night? Here are some dart throws.
Dyami Brown, WR, UNC:
Brown's evaluation has been unusual, because some analysts have watched him and noted how simplistic his offense has been with the Tarheels, while others have chosen to focus on the translatable traits that could help him succeed far beyond the bounds of said offense. I have seen some suggestions that there are teams that rank Brown as their 4th WR in the class. So it's possible that the NFL is much higher on him than the media. His 8.38 RAS would qualify him as a "Packers type" and he won't turn 22 until November.
Walker Little, OT, STAN:
Playing 1 game in your final two years of college football will certainly drop you off the radar, but that's what a knee injury (2019) and Covid hysteria (2020) will do for a person. Little's pedigree is about as good as it gets, and in 2018 (and for one game in '19), he gave every indication that he was on his way to being a high end OT prospect. His 4.59/7.44 results in the agilities crushed the Packers' thresholds. He's one of the draft's biggest wildcards.
Milton Williams, iDL, LAT:
The Packers have shown a willingness to invest in elite athletes who need to be developed. Williams is certainly that. And while he
certainly
is not Aaron Donald as a football player, he does have similar athlete tools. It's not completely impossible that the team wouldn't consider trying to draft and develop a poor man's version of the league's best defensive player.
Payton Turner, ED, HOU:
If the Packers board is cleared out, I could imagine them just settling for a pass rusher, especially with the high probability that this is Preston Smith's last season. Turner is about as freaky and talented as it gets at the position, and he was not unproductive in college. There are actually a number of high caliber athletes at edge rusher that fit this description:
Jaelen Phillips (MIA), Joe Tryon (UW), Boogie Basham (WF).

Baron Browning, LB/ED, OSU:
Where the Fangio/Staley defense has been executed at a high level, they have typically used a true stand-up speed rusher on the outside who can drop (think Leonard Floyd). Browning has been an off-ball SAM and MIKE for the Buckeyes, but has also rushed at times, with a good deal of success. I think he is much closer to being in reality what people imagine Zaven Collins to be as a prospect. I recommend his
mockdraftable web
. It's basically a filled in circle.
Jevon Holland, DB, OR:
The PAC12's irrational cowardice in how they handled the 2020 season cost a lot of their prospects some notoriety. Holland is one-- he was ascending in a big way, but fell off the radar when he didn't play this most recent season. As an 18 year old, he played safety for the Ducks in 2018 and had 5 interceptions and 6 PBU. They moved him to slot corner in 2019, and as a 19 year old he had 4 interceptions and 4 PBU (plus 4.5 TFL and some PR production). As a teenager, he was one of the best and most productive DB's in a power five conference. He tested with a 9.54 RAS. He
may
have outside corner ability (we don't know what Oregon would have done with him in 2021), but we know he has safety/slot skills. He could push Sullivan off the field, be interchangeable with Savage, and offer ST value. He's being slept on.
So there you have it. Don't say you weren't warned.
Last edited: