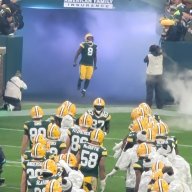 Opinions are like A-holes, we all have one.
Joined

Oct 30, 2012
Messages

29,830
Reaction score

6,362
Location
I think of when Brunell was on the bench and Hasselback. But I believe if Love suffered a season ender early or for say 8 weeks I think Gute would go after a veteran at that point just as a security blanket but not to win a SB. Losing is one thing but I cannot see Gute letting us get in a TJ Rubley or Scott Tolzien scenario. That is a TT thing. Fans have to believe you have some chance to win a football game.
Well, if you are developing a 2nd QB, that would be giving him an excellent opportunity to learn. I doubt a veteran QB, that is still on the street 8 weeks into the season, is going to jump right in and win games. #BrockPurdy
I realize people like W's, but I'd take L's, if it means bettering the team in the future. Hell, the 4 wins we got at the end of last season did us more harm than good.