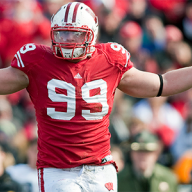 I take offense to that sir.
Joined

Nov 10, 2020
Messages

770
Reaction score

282
@McKnowledge
and
@captainWIMM
, who really cares about OBJ? Dudes a cancer and not even on a team. He can go play with the FG net at home for all I care.
Lazard made an impact in the Bears game. A couple of catches over the middle, including a TD. I think he is easily replaceable and I hope the Packers don't overpay to keep him. There's a lot of young talent in the WR room and I think they can add to it next year. I'd much rather see them sign Walkins to a 2-3 year deal and let Watson and Doubs grow. We have something special in those guys. Like I said, we need to add to it, but as the chemistry grows I think that group will start to be hard to defend. Personally, I think Lazard thinks he is better than he is and this is his last year in GB. I've never been super high on the guy and I'd wager they let him walk.