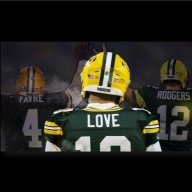 Joined

May 2, 2012
Messages

10,984
Reaction score

3,108
I know I said I was done...but couldn't, as I've continued to pour through tape more and more I've changed my stance some. Below I will breakdown each pick with not just my reasoning but what I feel Gute or staff might say to justify the pick either to themselves or publically.
No Trades Version:
#30 - Michael Pittman Jr. WR (USC):
If the Gary pick last year taught me anything it is the fact that Gute will not bat an eye to take a guy before some would say he should be. I've never heard a pundit really say anything bad about Pittman. He isn't a **** pick like Mims or Reagor here...or even Aiyuk...but he is a multi-year proven commodity at his position. Immense hand skills, body control is great, route running is well above average and doesn't rely on just one attribute to contribute like some others. I have his floor in the next level higher than any other receiver's floor, sure his ceiling is possibly lower than some...but I just don't see him busting without a career ending injury. No trades come in or as this scenario is no trades, Gute doesn't hesitate and takes a WR that I'd argue doesn't have big holes or even medium holes in his game anywhere.
#62 - Matthew Peart OT (UCONN):
This dude I've had circled ever since making my first lists. His RAS score will shock folks, his feet are above average and his movement is something I like in MLF's system. Bahk I feel will be here another contract, but this pick is more about the right side than left. Wagner is a great experienced band-aid but in a perfect world next year he is our back up (or cut) RT and a draft pick excels enough to take over. Peart illustrates all the skills and projects as a starter, well worth a 2nd round pick even if he doesn't truly start impacting in a big way till 2021.
(Niang IF available would be TOUGH to choose between for me, Edwards or Claypool are an option if we go OT at #30 here.)
#94 - Troy Pride Jr CB (ND):
Excelled in man coverage and ND defense was an entirely different team the moment he would exit games. I'd love to say we don't have to use a 3rd rounder on him, but its a 50/50 projection he is even here at this point. Gute isn't dumb, he knows the situation brewing at CB, yes he has Tramon in the wings waiting, but it would be nice to have a rookie contract giving almost or close to what Tramon brings. I'm not saying Pride Jr. walks in and can play as many snaps as Tramon, but I do think he can 100% strengthen the DBs and instantly should garner the 3rd highest amount snaps from the present group.
(Darnay Holmes is another CB to keep eye on around here)
#136 - Jason Strowbridge iDL (UNC):
Lean, his RAS is awesome yet his greatest skill is run defense. I know that many are not a fan of this DL class...I tend to agree. Very quickly you go from guys that can or project well as all around guys - to one dimensional guys with possibly the ability to grow. Strowbridge is one of those Tier 2 iDL I think has the most potential to tap into more aspects of what his body and game could do, while continuing to be the run stopper he is known as. Gute is happy here as I feel he could arguably be the perfect mix of BPA and filling a true need. Clark needs help, just like the WR corps no one has really stepped up for that #2 spot.
(I think Fotu DL, Reggie Robinson if we don't go CB earlier, Duvernay/Bowden or Okwuegbunam)
#175 - Mykal Walker LB (FRESNO ST):
I love this guy and Strnad for our team. Athletic with no fear to hit...however Walker is more likely to be available here than Strnad. Walker is less capable than Strnad at coverages but does well in the box and shallow zones, he is not as poor as Martinez IMO for those wondering. His athletic ability projects there is growth still in his reading and coverage skillset. If we don't go LB earlier Walker paired with a healthy Kirksey and a hopefully progressing Burks and Summers we have a much better ILB corp now than last season both on paper and the field. Gute with gush over this dude's potential.
(Jacob Phillips, Isaiah Coulter and some iOL would weigh heavy as options here...also start keeping an eye on RBs)
#192 - John Hightower WR (BOISE ST):
I predict we will at minimum grab two WRs. While I'd personally love to pair Duvernay with Pittman or even Joe Reed...I ultimately chose to go with Hightower here knowing this could mean passing Reed for him. Hightower is explosive, can provide return game assistance and I think even could be a gunner. His 40 time is quick, his feet are quicker I think. Home run style ******* with big play potential...not as well crafted of a WR as you'd hope if he was your first pick, but he isn't terrible at anything either....but biggest flag I think is his concentration as lapses happen. I think Gute will go back to his big play, fast pace and special teams abilities at a presser on this kid. If I'm MVS and ESB, I'm worried about this guy...he is kinda a mixture of the two but also is neither.
#208 - Essang Bassey CB (WAKE FOREST):
I truly believe if this guy was over the 6 foot mark he wouldn't make it this far. However, sadly here we have a quick footed, experienced man coverage DB that is a mere 5'9''. With 50 BPUs...take notice folks. Just don't look to him to be good at tackling....yea let's just say that isn't something you want to see. I love his quick feet and hips however and the potential he has.
#209 - Charlie Taumoepeau TE/FB (PSU):
I can still remember my first mock when some were completely clueless as to who this cat was. Well he walked away from the combine with measurables that rival many of the top TE's and hybrid TE/HB/FB type guys. I love his potential, while he isn't the blocker perhaps we'd want to replace Vitale...watch out because I think he is every bit and more of a potential receiver. Great flyer late round pick/toy for MLF to dabble with some as he learns the professional game and speed.
#236 JJ Taylor RB (ARIZONA):
When I see him I see a shorter, slenderer version of Maurice Jones-Drew. Is he that caliber, no....but no fear, short back that can hide and has the willingness to hit holes. A shifty, not fast guy...I like him and wanna see just what he could be - which arguably is nothing, but I want to see.
#242 - Scott Frantz (KST):
I always want or am a fan of taking experienced late round OLs and I'll circle Frantz here, however another guy many say will be here would be Cervenka an iOL I really like out of Clemson many I feel are sleeping on.
That's it. I won't do a full blown draft but in a perfect world I would love a mild trade back from #30 into the mid 30's to mid 40's...we nab Pittman there and then have another 3rd or 4th to use on a Logan Wilson type ILB or Dye ILB or maybe be high enough to get a OT Gute likes. I also think trading up into the 3rd or 4th is something I found myself constantly desiring to do for guys I think are going to do very well...especially a few iOLs catch my eye....as well as possibly Bowden or Gibson to pair with Pittman.
Last edited: