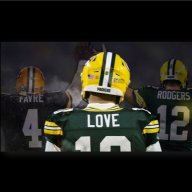 Joined

May 2, 2012
Messages

12,222
Reaction score

3,872
Everyone here knows I came to MVS's defense more than most - and to be fair I was honestly critical of him as well through it all. However, MVS is no longer a Packer and while some are happy from an ignorant standpoint I figured he deserved a Kudos thread given all that he did and the fact that many fail to realize honestly how big of a draft hit he truly was and how well positioned he just turned his abilities into financial stability for his life (if he doesn't blow it) because of it. I became a big fan of his over the years, and presently going to try and nab a signed Packer jersey of his before they dry up.
In 2018's Draft 34 WRs came off the board on draft night.
MVS had 18 names called before his - only 5 of them can say they've produced more yards than him - of which only one (Gallup) wasn't drafted in the Top 50.
He has been active for the fourth most games of his draft class.
His 17.50 career yards per catch ranks the highest of the draft class (except for Richie James with only a 1/3 of the receptions though). The person closest behind MVS is over two yards behind and is Courtland Sutton at 15.19
He is 7th for the most TDs in the class and is the only person outside of the 3rd round in the top 10.
He led the league in YPC in 2020 with over 20 at 20.9 (an incredible number)
Arguably by the 2021 season was the best blocker in the WR room not named Lazard.
Comparing him to other draft classes over the last ten....
Only 7 WRs in the last 10 drafts picked in the 5th or later have compiled more yards than MVS has in their careers. That means they're entire careers. That list includes Hunter Renfrow (19), Tyreek Hill (16), Rashard Higgins (16), Stefon Diggs (15), Kenny Stills (13), Marvin Jones (12), Rishard Matthews (12) - I did not include Waller who was listed as a WR on draft but is a TE in NFL (15). Besides Renfrow only six guys drafted 5th round or later have over the years compiled more yards than MVS has in his shorter career.
Even crazier...over the last 10 drafts, only 63 WRs have done that same feat drafted at ANY point in the draft (this includes guys like Adams, Hopkins, Hilton, Fuller, Keenan Allen, Mike Evans...) most being 1st and 2nd rounders of course.
Now proactively as some will bring up his catch percentage...I've compiled vastly more than this and shared before...but for a DEEP ball threat it is very RARE for such a weapon to exhibit high catch percentages.
This is exhibited best by some of the best career YPC guys in the league and their catch percentages below:
Devery Henderson had a career YPC of 17.9 and ctch% of 55.4
DeSean Jackson -17.4 and 56%
Malcomb Floyd - 17.3 and 56.3%
Josh Gordon - 17.2 and 53.5%
Vincent Jackson - 16.8 and 52.2%
MVS so far: 17.5 and 49.8%
So yes, that is the flag about MVS - BUT pure deep threats rarely exhibit great catch percentages and he isn't too terribly far off some of the best to do it, especially at a young age with tons of time to bring his up as some of them did.
All in all MVS NEVER should have been as good as he was based on trends of such draft picks...but he was.
He had no business playing his way into a big contract...but he did.
And I would argue those that believe he sucked or wasn't what he should be never actually understood the cog he was or were just ignorant and needed a punching bag...
Big thanks to MVS for his years here, he sure could fly...and if it clicks for him - we all realize he could be VERY good, and for his sake I hope it does click.
FTR, it was a good decision to not resign him at his cost to KC - don't think this all means otherwise.
You must be logged in to see this image or video!
Last edited: