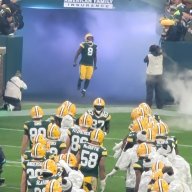 Opinions are like A-holes, we all have one.
Joined

Oct 30, 2012
Messages

30,689
Reaction score

6,898
Location
This will be my last attempt. I believe in winning now. By "now" I do not mean today. I mean as soon as possible. At Gary's position we had some nice players but none of them are FHOF. What I find ironic is that you are the guy who wanted Love playing at the end of last year partly for better draft position, then you are quick to point out that there was no guarantee that the picks used on Love would have worked out for the Pack. By drafting later round QBs you may find one to fill the role of future QB if you get lucky as you point out even top 5 draftees sometimes don't make it at QB. Take a few shots at a late rounder and then use a high pick when you actually need a QB.
Where is the irony? With 5 games to go, I felt that the Packers season was going nowhere. Given that, the best plan was to do everything with an eye on the future. Playing Love and younger guys would have accomplished a lot more. If they lost games, big deal, improves their draft position, a fair traded off IMO.
As it turns out, I was right. The 4 games that the Packers won at the end of the season ended up being pretty meaningless, IMO. Throw in a gut wrenching loss to the fricking Lions and it was a fitting end to a very forgettable season. Instead, Love got zero snaps in those games, same for many of the other younger guys, we ended up with the 15th pick in every round, instead of the 2nd or 3rd. I would call all of those things pretty significant losses for the future.
So yes, we have a different point of view of what wins and losses mean to a team and planning for the future. I get the "winning now" thing, I just believe in more and better gains with a longer term outlook.